Sunday, July 8, 2001,
Chandigarh, India



B U S I N E S S
DSE steps in to help US-64 investors
New Delhi, July 7
Even as the Unit Trust of India struggles to find a way to enable small investors to have a exit route for the US-64 scheme, the Delhi Stock Exchange has stepped in to provide temporary relief to the investors.
Subsidy on used knitting machines
Ludhiana, July 7
The Ministry of Textiles has accepted the long-pending demand of the knitting industry to provide interest subsidy on the second-hand computerised flat-bed knitting machines, mostly imported from Italy and Germany, under the Technology Upgradation Fund Scheme (TUFS).
'Accord' launched in city
Chandigarh, July 7
Honda Siel Cars India launched its internationally famous flagship brand "Honda Accord" here today. Priced at Rs 14,93,575 (ex-showroom Chandigarh) for Vti (MT) model and Rs 15,73, 574 for Vti (AT) , the all-new Sixth Generation Accord is the most recent version of Accord series launched by Honda Motor Co. in several countries earlier this year.
Sugar issue in Agra Summit likely
Shimla, July 7
Resumption of export of sugar to Pakistan was likely to be raised during the Agra summit between Prime Minister A. B. Vajpayee and Pakistan President Gen Musharraf, Union Consumer Affairs and Food Minister Shanta Kumar said today.
Accused in Indian Bank scam held
New Delhi, July 7
CBI achieved a major success in the Rs 1300-crore Indian Bank scam with the arrest of the main absconding accused of the scandal M. Varadarajalu of the MVR group of companies by French authorities near Paris.
IOC, SBI, Reliance in Forbes list
New York, July 7
Four Indian companies have been listed by Forbes magazine in its latest list of 500 large global firms that had got off to a bad start in 2001 but are forecast to finish the year on a better note.
Steel re-rolled items exempted from ISI mark
Ludhiana, July 7
The Ministry of Steel has finally bowed before the steel re-rollers and decided not to implement the mandatory BIS mark (ISI) on the steel re-rolled products.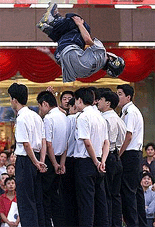 A Chinese student flies over a group of private security guards during a performance of roller skating skills in front of a shopping mall in Beijing on Friday. The performance was one of many promotions organised by the shopping mall to attract customers.
— Reuters

Punjab opposes decentralised procurement
July 7, 2001
Govt non-committal on UTI bail-out
July 6, 2001
BSNL is 'anti consumer', says TRAI
July 5, 2001
US-64 — What went wrong?
July 4, 2001
8 pc growth a pipedream: Manmohan
July 3, 2001
IOC to invest Rs 5,850 cr; raise 940 cr from market
July 2, 2001
FM worried over decline in growth rate
July 1, 2001
Microsoft wins appeal of breakup ruling
June 30, 2001
India for consolidation of WTO pact
June 29, 2001
Govt may revise policy on 8 pc growth: PM
June 28, 2001