Passengers pay for dhaba owner-bus driver nexus
Sonepat, July 7
The nexus between roadside dhaba owners and Haryana Roadways staff continues to thrive adding to the frustration of the helpless passengers, particularly those on the national highways passing through the state.
CM wants to make Haryana flood-free
Jind, July 7
Chief Minister Om Prakash Chautala said 3000 mw electricity would be produced in the state during the next three years making Haryana self-sufficient in power. He said the state government had signed an agreement with the Union Government for establishing three gas power plants of 500 MW capacity each.
Roadways staff block traffic
Fatehabad, July 7
Agitated at the beating up of a Punjab Roadways driver by henchmen of a private bus service operator and inept handling of the situation by the local police, roadways employees blocked traffic on the national highway here today.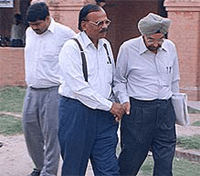 Ruchika case adjourned
Ambala, July 7
A special Magistrate for CBI cases in Haryana, Mr J.S. Dhanjal, today adjourned the Ruchika molestation case till July 24. A former Director General of Police, Haryana, Mr S.P.S. Rathore and Madhu and Anand Prakash were present in court.

Former Director General of Police, Haryana, Mr S. P. S. Rathore, talking to his counsel in the court complex in Ambala on Saturday. — Photo N Chopra

'Hen-pecked' villagers see flies return
Barwala, July 7
It's a vicious fly-cycle that is taking its toll on the sanitary conditions in Barwala and the poultry farm owners are likely to face the music. Sadly, so are the hens in their coops since it will mean additional doses of medicine in their feed.
28 taken ill in Bihta village
Ambala, July 7
About 200 persons have reportedly been taken ill due to stomach ailment in Bihta village in Barara. The district administration has, however, stated that only 28 persons had fallen ill.
Training programme for 'green' trainers inaugurated
Chandigarh, July 7
The Commissioner and Secretary of the Haryana Environment Department, Mr D.S. Dhesi, today inaugurated the first state level training programme jointly organised by the Haryana Environment Department in tandem with the Environment Society of India for master trainers under the newly formed National Green Corporation.
HCTU expresses gratitude
Chandigarh, July 7
A delegation of the Haryana College Teachers Union led by its President, Prof Shamsher Singh, today met the Commissioner of Higher Education and expressed gratitude to the Haryana Government for implementing all demands of the HCTU.
Haryana transfers four IAS officers
Chandigarh, July 7
The Haryana Government has issued posting and transfer orders of four IAS officers. Mr G. Madhavan, Financial Commissioner & Secretary, Technical Education Department, has been brought back as Financial Commissioner & Secretary, Health (including Medical Education) Department in place of Ms Veena Eagleton.
3 lakh ransom sought from rehriwallah
Karnal, July 7
A gang of criminals who abducted 13-year-old Sonu on July 4 has demanded a ransom of Rs 3 lakh from the parents of the boy. A relative of Sonu said the boy's mother received a telephonic message from the abductors to arrange s 3 lakh if they wanted Sony's safe return. Sonu was the son of a rehriwalla who sells "jalebis".
ST imposed on liquor
Bhiwani, July 7
The state government has imposed sales tax to the tune of 20 to 25 per cent on country-made and English liquor. The order has been implemented in over 20 CSD canteens in the state. However, it has no effect on the English wine being sold at "Thekas" sofar.
Hooda announces pre-poll programme
Yamunanagar, July 7
The Haryana Congress has announced a four-phase programme in the run-up to the ensuing Assembly poll. Mr Bhupinder Singh Hooda, president of the Haryana Pradesh Congress on his tour of the district here yesterday said if the Congress comes to power in Haryana, unemployed youth would be provided jobs.
Polluted water: 12 hit by diarrhoea
Sirsa, July 7
Diarrhoea has claimed one life and nearly 12 persons are reported to be suffering from it in Kalanwali in the district. According to the reports received yesterday a four-year-old girl in the family of Mam Raj in Ward No. 3 of Kalanwali in the district died of diarrhoea while three other members of the family are still suffering from it.
Diarrhoea cases on the rise
Bhiwani, July 7
Diarrhoea cases are reportedly increasing in the district. According to information, four children were admitted to the civil hospital for the treatment of diarrhoea on Friday.