Address core concerns of people: PM
Islamabad, July 12
Prime Minister Atal Behari Vajpayee today said India and Pakistan should shed "narrow and cliche-ridden" approaches and seek ways to take their entire relationship forward and address the "core concerns" of the people of the two countries.
KASHMIRI SIKHS — I
PoK Sikhs' tale of perseverance
Mohan Nagar (Raisingh Nagar), July 12
Their grit, perseverance and unshakeable faith in the will of the Almighty is what has kept the Kashmiri Sikh community, displaced from areas in Pakistan-occupied Kashmir (PoK), going for the past 54 years.
In Arts Tribune today

I. K. Gujral on Agra summit
"Guftgu bund na ho, baat se baat chaley / Subha tak sham-e-mulaqaat chaley"

Mr I. K. Gujral, former Prime Minister, emphasises these sentiments in his article, specially written for The Tribune, on reshaping India-Pakistan relations. The article will appear on the Edit Page tomorrow.
THE TRIBUNE MAGAZINES
On Mondays

On Sundays
On Saturdays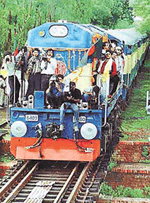 The first passenger special train enters India from Darshana station in Bangladesh territory as journalists ride on its engine at Jaynagar, near Gede station, Nadia district, about 117 km north of Calcutta, on Wednesday. — AP/PTI

INTERFACE
IN PASSING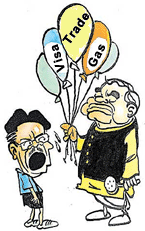 No, but I want only Kashmir!

by Sandeep Joshi
Simultaneous poll in Punjab, two other states planned


Chandigarh, July 12
"The Election Commission of India plans to hold elections to the state assemblies of Punjab, Uttar Pradesh and Uttaranchal simultaneously," says Mr B.B. Tandon, a newly appointed Member of the commission, maintaining that the "endeavour of the commission, as far as possible, is to conduct all future elections using electronic voting machines (EVMs)."
CBI challenges Sukh Ram's acquittal
New Delhi, July 12
The CBI today challenged in the Supreme Court the discharge of former Union Minister and Himachal Vikas Congress President Sukh Ram in the multi-crore telecom scam case saying that the trial court and the Delhi High Court ignored evidence against him in the case.
SECULAR VALLEY—SPECIAL STORY
Where Muslims look after Hindu shrine
Tulamulla (Srinagar), July 12
Eleven years of militancy in Kashmir may have done its bit in shattering the secular character of the Valley, but it has still not succeeded in uprooting the same completely. Some areas of the Valley have survived the fundamental onslaught to prove an all-time relevance of tolerance and mutual coexistence — the two basic characters of a 700-year-old Kashmiri heritage.
NDA not to attend Pak reception
July 12, 2001
30 pc cut in PDS wheat, rice prices
July 11, 2001
Kashmir not sole issue: PM
July 10, 2001
PM to brief all-party meeting today
July 9, 2001
Musharraf softens stand
July 8, 2001
3 Army men killed in ambush
July 7, 2001
PSGPC 'must be on summit agenda'
July 6, 2001
Karunanidhi freed on 'humane grounds'
July 5, 2001
Centre warns Jaya govt
July 4, 2001
Karunanidhi not to seek bail
July 3, 2001
Tamil Nadu Governor resigns
July 2, 2001
Karunanidhi held in pre-dawn swoop
July 1, 2001