Friday, July 13, 2001, Chandigarh, India



B U S I N E S S

Bail-out package for UTI soon
New Delhi, July 12
The UTI will shortly come out with an alternative package for its flagship scheme US-64 to overcome the crisis created by the decision to freeze sale and redemption of the country's largest mutual fund scheme.

Shourie denies favouring Tatas in Air-India bid
New York, July 12
Disinvestment Minister Arun Shourie has rejected the suggestion that the government has favoured Tatas in the disinvestment process of Air India. The criticism of the government is based on misconceptions and misunderstanding of the guidelines approved by the Cabinet Committee on Disinvestment, he told reporters here.

Tatanova to enter Punjab market
New Delhi, July 12
Tata Internet Services plans to enter the corporate market segment of Punjab by September this year and the consumer segment by the year end, a senior company said.

Zee Tele admits delay in payment
New Delhi, July 12
Promoters of Zee Telefilms Ltd said today they could return only Rs 60 crore of the Rs 220 crore total liability towards ZTL and that they have placed 50 lakh personal shares with a US-based institutional investor to reduce this liability further.

BoP opens office in Secunderabad
Chandigarh, July 12
Bank of Punjab Ltd, added Secunderabad in its portfolio today. This expansion is in line with bank's marketing strategy to expand its network, customer base and position itself as a technology-savvy national bank in the country.

Textile exports up
New Delhi, July 12
The overall textile exports have registered a growth of 12.9 per cent during the year April, 2000 to March 2001. It went up to $11,851 million from the previous year's $10496.5 million. The export of readymade garments, which account for about 42 per cent of the total textile exports, touched $5463.5 million against $4756.3 million last year, recording a growth of 14.9 per cent.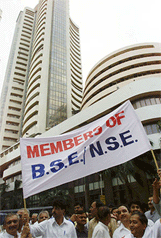 Stock brokers belonging to the Bombay Stock Exchange, India's oldest bourse, and the National Stock Exchange protest against a broker registration fee imposed by the Capital Market Regulator in front of the Bombay Stock Exchange building on Thursday.
— Reuters
Govt to earn 1,300 cr from 4th cellular slot
July 12, 2001
3,600 Customs officials to face axe
July 11, 2001
Exports through Amritsar can double
July 10, 2001
DSE proposes merger with BSE
July 9, 2001
DSE steps in to help US-64 investors
July 8, 2001
Punjab opposes decentralised procurement
July 7, 2001
Govt non-committal on UTI bail-out
July 6, 2001
BSNL is 'anti consumer', says TRAI
July 5, 2001
US-64 — What went wrong?
July 4, 2001