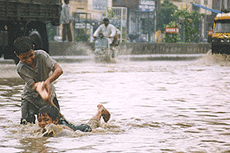 Life went out of gear after incessant rain in Amritsar on Thursday. — Photo Rajiv Sharma
17 to get Punjab Rattan awards
Patiala, July 12
Seventeen persons will be honoured with Punjab Rattan and Patiala Rattan awards at a function being organised on September 23 by the Punjab Writers Forum. Three awards are being given posthumously to Sant Harchand Singh Longowal, Beant Singh and Lala Jagat Narain.
Rs 2 cr cotton scam detected
Mansa, July 12
Officials of the Punjab Mandi Board have detected illegal sale/purchase of agricultural products worth Rs 1.95 crore on which market fee and Rural development Fund payments were not made. This was allegedly done by a cotton processing firm under the jurisdiction of the local Market Committee.
Computers clear backlog of Languages Dept
Patiala, July 12
Punjabi books and magazines may now be available in time to the public with the state Languages Department taking the help of computers to shorten the entire publication procedure.


Badal's US visit 'eyewash'
Hoshiarpur, July 12
Ch. Jagjit Singh, of the Opposition in the Punjab Vidhan Sabha has alleged that Mr Parkash Singh Badal has gone abroad for reasons other then for the operation of his eyes. He said going to the USA for an eye operation was merely to befool the public. He was talking to the correspondent at the local PWD Rest House here yesterday.
Dy chief of state SJP suspended
Bathinda, July 12
Mr Sukhwinder Sukhi, vice-president of the Punjab unit of the Samajwadi Janata Party, has been placed under suspension for his alleged involvement in anti-party activities.
No clue to missing son
Bathinda, July 12
Mr Baldev Singh of Seman Kalan village of the district is running from pillar to post in search of his son who is reportedly missing since June 15. Narrating his tale of woes to this correspondent here today, Mr Baldev Singh said his son Beant Singh had gone to Lucknow along with 16 other labourers of his village on a labour contract. The boys were taken to Lucknow by Mr Bhappa Singh, munshi of a labour contractor, about two-and-a-half months ago, Mr Bhappa Singh belonged to our village and so we trusted him, but he cheated us, he lamented.
SC orders "not implemented"
Mansa, July 12
Mr Sikander Singh, state president of the Punjab Medical Laboratory Technicians Association, said here yesterday that the PMLTA was struggling to get its demands accepted for the past 12 years. He said the association had knocked at the doors of the Punjab and Haryana High Court when the Punjab Health Department failed to accept their demands.
Brother, not son-in-law, killer
Surrenders before the police
Abohar, July 12
Dwarka Ram, who killed his brother, sister-in-law, a nephew, a niece and two servants, at Dutaranwali village yesterday surrendered before the police in the presence of Mr Ramesh Bishnoi, general secretary, All-India Jeev Rakshra Samiti, official sources said.
Magistrate summons ASI
Pathankot, July 11
The Judicial Magistrate, First Class, Pathankot, Mr Harish Anand, yesterday summoned ASI Baldev Singh in a case pertaining to the snatching of money and beating up of a complainant.
Action sought against mahant
Barnala, July 12
A rape scandal action committee of the (Tapa region) has demanded action against Mahant Sewa Dass Muni, chief of Dera Baba Inder Dass Tapa 20 km from here, who allegedly raped a minor girl. It said he should be sent to jail from Government Rajindra Hospital Patiala and a CBI probe should be conducted into the incident.
BSP's ultimatum to admn
Phagwara, July 12
The BSP yesterday served an ultimatum on the local administration that it would hold a demonstration against the administration on July 17 if a case was not registered against those whose negligence led to the death of four Dalit labourers on July 6.
Panchayat poll to be held on July 29
Kharar, July 12
Election to fill the vacancies of two sarpanches and nine panches of villages falling in the Kharar Block would be held on July 29 and the State Election Commission has finalised the programme for this poll.
First phase of science city by year-end
Jalandhar, July 12
Mr Chiranji Lal Garg, Punjab Science and Technology Ministry, has said the first phase of the Rs 100-crore Pushpa Gujral Science City will be completed by the end of December.
Subedar cremated with honours
Gurdaspur, July 12
Subedar Satnam Singh of the 7th Sikh regiment who laid down his life recently while fighting militants in the Rajouri area of the Kashmir valley was cremated today with full military honours at his native Mari Pannua village in this district.
Havaldar cremated with honours
Ghudda (Bathinda), July 12
Havaldar Kala Singh who was killed in an encounter with terrorists at Hamirpur along the LoC on July 9 was cremated with full military honours at his native village here today.
34 cops honoured
Kapurthala, July 12
Mr J.P. Virdi, Inspector-General of Police, Jalandhar zone, today honoured 34 police officials of the district, who had solved several robbery cases and helped solve the child abduction case at Phagwara.
Dera chief dead
Tarn Taran, July 12
Baba Charan Singh (54), head of Dera Nawan Paraow, Sarhali Sahib, and patron of Guru Gobind Singh Khalsa College, Sarhali, died in Mumbai yesterday night. The body was brought to Sarhali Sahib from Mumbai.
Order cutting off funds stayed with costs
Chandigarh, July 12
Directing the state of Punjab and other respondents to release funds within a month to the gram panchayat of Nazamudeenwala village in Ferozepur district for the construction of nine houses under the Indira Awas Yojana, a Division Bench of the Punjab and Haryana High Court today imposed costs of Rs 5,000 on the state.
Judgment reserved in MLA's case
Notice on Chohan bail plea
Truck union chief's removal revoked
Notice on PMET exam
Attend 'sangat darshan' or face action: DC
Patiala, July 12
Mr Jasbir Singh Bir, Deputy Commissioner, today issued strict instructions to the district officials to remain present during the "sangat darshan" programme failing which strict action would be taken against them.
DC directs officials to remove encroachments
Fatehgarh Sahib, July 12
Block development and panchayat officer BDPOs, the executive officers of the municipal councils have been directed to accord top priority to clearing encroachments from the government lands in the district if necessary, seek the police help.
Pensioners condemn move on DA
Bathinda, July 12
The Punjab Government Pensioners Association has condemned the government decision to stop DA for the next five years not to appoint any pay commission in future and the introduction of contributory pension scheme.
Punjab Govt urged to increase HRA
Patiala, July 12
Former Punjab minister Prem Gupta has urged the state government to immediately accept the demand of government employees here regarding an increase in the house rent allowance from 7.5 to 15 per cent of their pay.
Cops launch Dastak plan
Kapurthala, July 12
Mrs Gurpreet Deo, SSP, today announced the launching of a 'Dastak programme' in the district as was being done in Jalandhar. Talking to mediapersons, Mrs Deo said the programme was being launched with an aim to make the police accountable to the public.
New office timings cause inconvenience
Amritsar, July 12
The decision of the government to have office hours from 7 a.m. to 2 p.m. has been causing inconvenience to the public. Residents of border areas and other far-off villages in the district have to travel to the city early in the morning to reach the office before the office hours are over.
4 members of killer gang arrested
Batala, July 12
The police today claimed it had arrested four persons, including a woman, involved in two murder cases, which occurred last year. Giving this information here, SSP Sukhdev Singh Brar identified the arrested as Amrik Singh, a resident of Gaunspura, Kashmir Singh, a resident of Ghasitpura, Lakhbir Singh, a resident of Nijampura and Kanta, a resident of Talwandi Lal Singh villages.
Man stabbed to death by brother
Ferozepore, July 12
In yet another incident of murder in broad daylight, a local businessman was stabbed to death today. According to information, at around 11.30 a.m., Ashwani Kumar (40) was murdered when he was opening the shutter of his shop in Dana Mandi locality. Ashwani Kumar was allegedly stabbed a number of times by a sharp-edged weapon before he collapsed.
12 held for opening fire to get shop vacated
Moga, July 12
Several persons armed with firearms and sharp-edged weapons yesterday attacked the premises of Trikon Computer on the G.T. Road and fired indiscriminately in a bid to get the shop vacated. On hearing shots, shopkeepers of adjoining shops ran away and reported the matter to the police.
Diploma in pharmacy to continue for a year
Ropar, July 12
The All-India Council of Technical Education has given permission for the continuation of the diploma courses in pharmacy for another year in the state. With it many private and government polytechnic institutes running the course have got a fresh lease of life.
Cell to study impact of WTO
Patiala, July 12
Punjabi University will establish a monitoring cell to study the impact of World Trade Organisation policies on the economy of the state. This was stated by the Vice-Chancellor of the university, Dr Jasbir Singh Ahluwalia, while starting the new academic session during a function held at Arts Auditorium of the university here today.
Few takers for medical stream
Patiala, July 12
Students taking up admission in various colleges of the city seem to have forsaken the medical stream and are going in for professional courses or taking up non-medical and the commerce streams.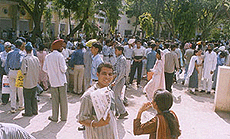 The rush of students seeking admission in a local college of Bathinda city.
— Tribune photo Kulbir Beera


Admission rush in colleges
Bathinda, July 12
Long queues of students seeking admissions can be seen in schools and colleges of the city. Good results shown by city students have created competitions and craze among students from nearby cities to seek admission to schools and colleges here.
Denial of admission triggers suicide
Bathinda, July 12
In a bizarre incident, Dheeraj Kumar, a student residing in the Guru Nanak Dev Thermal Plant colony, committed suicide on the night of July 10 when he was reportedly denied admission to a college by its authorities.