Special editorial
An opportunity at Agra?
By Hari Jaisingh
Both Prime Minister Atal Behari Vajpayee and President Pervez Musharraf should have a stake in the success of their summit at Agra. At least Mr Vajpayee has, because he is the author of the peace process which began with his bus journey to Lahore. He now has the national consensus behind him as Monday's all-party meeting showed.
NEWS ANALYSIS
Indian agenda for Agra summit
In his deep throaty voice External Affairs and Defence Minister Jaswant Singh unveiled the contours of the Indian agenda for the Agra summit. Just the contours, leaving it to the nation and India-watchers in Pakistan to guess the real thing. New Delhi is ready and willing to discuss the Kashmir dispute and a possible solution to it.
In Sports Tribune today
THE TRIBUNE MAGAZINES
On Mondays

On Sundays
On Saturdays
APHC's tete-a-tete with Pak scribes
New Delhi, July 13
In a bid to cultivate the opinion of Pakistani people, Hurriyat Conference leaders today held a closed-door press meet exclusively for visiting Pakistani mediapersons who have descended in the capital to cover the historic summit.
Troops on high alert in J&K
Jammu, July 13
Army troops have been put on "high alert" in sensitive areas of Jammu and Kashmir, especially in Jammu division, to thwart any attempts by militants to strike during the Agra summit, a top Army official said here today.
In Windows today
IN PASSING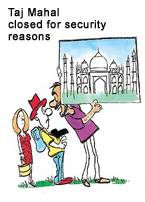 You want to see Taj? Here it is!

by Sandeep Joshi

Sites on itinerary sanitised
New Delhi, July 13
While the security forces and the Delhi police were giving final touches to the security net thrown around the places on the itinerary of the visiting Pakistani President, General Pervez Musharraf, there was considerable disappointment among the residents of dargah Hazrat Nizammuddin as his visit to this holy place has been dropped for some inexplicable reason.


SGPC sends 'Sikh agenda' to PM
Amritsar, July 13
Even as 170 Sikh shrines in Pakistan, which are in a dilapidated condition, are still closed and 20 others are in possession of people, the SGPC president, Mr Jagdev Singh Talwandi has sent a detailed 'Sikh agenda' to the Prime Minister and the Union Home Minister through special messengers for taking up with Gen Pervez Musharraf, Pakistan President, during the Agra summit, scheduled for July 15.

No set proposals on J&K: Jaswant
July 13, 2001
NDA not to attend Pak reception
July 12, 2001
30 pc cut in PDS wheat, rice prices
July 11, 2001
Kashmir not sole issue: PM
July 10, 2001
PM to brief all-party meeting today
July 9, 2001
Musharraf softens stand
July 8, 2001
3 Army men killed in ambush
July 7, 2001
PSGPC 'must be on summit agenda'
July 6, 2001
Karunanidhi freed on 'humane grounds'
July 5, 2001
Centre warns Jaya govt
July 4, 2001