Rain dampens charm of first day in college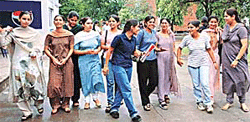 Chandigarh July 16
Thin attendance marked the first day of the freshers in Panjab University and city colleges today. While the college and university department authorities blamed the rain for the thin attendance, many freshers, who managed to reach their classes, complained that there were no teachers available to take classes.

Freshers in happy mood on the first day of the college at Government College for Girls, Sector 11, Chandigarh, on Monday. — Photo Pankaj Sharma

4,946 students get admission
Chandigarh, July 16
As many as 4,946 students have been admitted in different government schools during the ongoing admission at the GMSSS, Sector 23, till date.
Career guidance week
Panchkula, July 16
The Deputy Commissioner, Ms Jyoti Arora, asked the students to select a career for them in which they can excel while delivering a inaugural speech on a career guidance week organised by the District Employment Exchange at DC Model School, Sector 7, here today.

Clear and present danger in school
Kansal (Kharar), July 16
Over 200 students of the local Government School are exposed to danger because they play in a dilapidated, abandoned and unsafe building in the school compound in the recess and after the school is over. The school is behind the Punjab Civil Secretariat in Chandigarh.
Schoolchildren play near an unsafe building on a school premises at Kansal on Monday. — Photo Karam Singh
Sacred Heart gets new principal
Chandigarh, July 16
After serving as principal of the Sector 26 Sacred Heart Convent School for nearly five years, Sister Gloria, today handed over the charge to former principal of Patiala's Our Lady of Fatima Convent School.
HIGH COURT
Admission to PEC from UT seats stayed
Chandigarh, July 16
In less than 24 hours before the admission process was to start in the Punjab Engineering College, a Division Bench of the Punjab and Haryana High Court today stayed counselling for 85 per cent of the seats in the UT pool.
Major seeks copy of GCM
Judicial remand in shootout case
Panchkula, July 16
An accused in the cyber cafe shootout case, Sanjay Rahi, was today remanded in judicial custody for 10 days by the Judicial Magistrate. Rahi, arrested on July 11, had initially been remanded in police custody for two days. The remand was extended by another two days as he was reportedly required by the police for further investigation in the case.
Complainant gets compensation
Chandigarh, July 16
The UT Consumer Disputes Redressal Commission has allowed an appeal filed by a city resident against the order of Consumer Forum-II, for the poor services being provided by the respondents, M/s Rattan Enterprises, Madhya Marg, M/s Lohia Machine Limited, Kanpur, and M/s LML Regional Office, Sector 17.