CBI raids house of UTI ex-chief
New Delhi, July 20
Just three days ahead of Parliament session, government today appointed a three-member high-level committee to probe UTI activities and the CBI raided premises of former UTI Chairman P.S. Subramanyam in Mumbai on charges of defrauding the country's largest mutual fund.
Fresh breach in Ghaggar, 5 plugged
Patiala, July 20
A fresh breach occurred in the Ghaggar at Arlana village in Kaithal district on the border with Samana, inundating paddy fields in two villages of the District, even as Irrigation Minister Janmeja Singh Sekhon held officials of the Drainage and Irrigation Department responsible for the breach which occurred at Rasoli village.
| | |
| --- | --- |
| | Residents of Ojhan village marooned in flood water in Patiala district on Friday. — Photo Subhash Patialvi |
THE TRIBUNE MAGAZINES
On Mondays

On Sundays
On Saturdays
Flood situation in Orissa worsens
Bhubaneswar, July 20
The flood situation in Orissa's coastal deltaic region worsened today after the huge discharge from the Hirakud dam reached the plains, official reports said. The death toll in the calamity had been officially put at 42, which did not include four persons swept away at Tikarpanga under Patkura block in Kendrapara district yesterday.
In Sports Tribune today
IN PASSING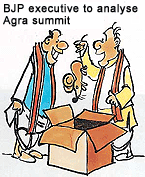 The dialogue must continue!

by Sandeep Joshi
SC admits petitions against Jaya
Referred to Constitution Bench
New Delhi, July 20
A three-Judge Bench of the Supreme Court in a significant order today admitted a batch of writ petitions challenging the appointment of AIADMK supremo J. Jayalalitha as Chief Minister of Tamil Nadu and referred them to a Constitution Bench of five judges for early disposal in view of the immense constitutional importance of the matter.
1 killed, 130 students hurt in Manipur
Imphal, July 20
A 32-year-old man was killed and over 130 students were injured, including seven in firing by paramilitary forces, when demonstrators protesting extension of Naga ceasefire in Manipur clashed with security personnel in a bid to enter the Raj Bhavan, defying prohibitory orders, official sources said.


Where are the PoWs if not in Pakistani prisons?
New Delhi, July 20
Relatives of Indian prisoners of war today claimed that they have ample evidence about the existence of their loved ones in Pakistani prisons for the past three decades. The evidence include reports emerging from Pakistani media to letters written by some PoWs to their parents.
Structured agenda in future must, says Opposition
July 20, 2001
Forget Agra, India tells Pakistan
July 19, 2001
Agra another step towards peace: India
July 18, 2001
Talks collapse, Musharraf leaves for home
July 17, 2001
Parleys constructive, very cordial
July 16, 2001
Resolve Kashmir issue once and for all: Pervez
July 15, 2001
Pak President arrives today
July 14, 2001
No set proposals on J&K: Jaswant
July 13, 2001
NDA not to attend Pak reception
July 12, 2001
30 pc cut in PDS wheat, rice prices
July 11, 2001