10 bus passengers electrocuted
Victims were on way to INLD rally
Kurukshetra, July 24
Ten persons were killed and seven injured when a private bus (DL IP 1532) came in contact with electric wires on the outskirts of Diwana, village 42 km from here today. The bus occupants, a majority of them farmers and farm labourers, were on their way to Bhiwani to participate in a state-level "progress day rally" of the INLD.
In Health Tribune today
THE TRIBUNE MAGAZINES
On Mondays

On Sundays
On Saturdays
USA reviewing sanctions: Rocca
New Delhi, July 24
Nuclear non-proliferation issue continues to be the dominant US policy for South Asia, the Assistant Secretary of State (South Asia Affairs), Ms Christina Rocca, said while indicating that Washington was reviewing removal of sanctions imposed on India following the Pokhran two tests in May, 1998.
IN PASSING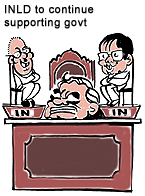 by Sandeep Joshi
Cops, BKU(E) men hurt in clash
Maisarkhana (Bathinda), July 24
As many as 15 activists of the BKU (Ekta) and 12 policemen were injured, some of them seriously, in a bloody clash here this morning.


Punjab CM visits accident site
Announces relief; 15 bodies fished out

Ropar, July 24
The Chief Minister, Mr Parkash Singh Badal, today visited the accident site, where the ill-fated truck fell into the Anandpur Sahib canal yesterday and expressed sympathy with the kin of the victims. Mr Badal, who arrived at Kiratpur Sahib at about 4 p.m. also announced a grant of Rs 50,000 each to the kin of those killed in the accident.


A relative (left) bids a tearful adieu to one of the deceased in the truck accident tragedy at Kiratpur Sahib on Tuesday. — Photo Pankaj Sharma

47 feared dead as truck falls into canal
July 24, 2001
16 massacred in Kishtwar
July 23, 2001
6 pilgrims among 13 killed in 2 blasts
July 22, 2001
Kashmir blocked peace: Pervez
July 21, 2001
Structured agenda in future must, says Opposition
July 20, 2001
Forget Agra, India tells Pakistan
July 19, 2001
Agra another step towards peace: India
July 18, 2001
Talks collapse, Musharraf leaves for home
July 17, 2001
Parleys constructive, very cordial
July 16, 2001
Resolve Kashmir issue once and for all: Pervez
July 15, 2001