| | |
| --- | --- |
| | Demonstrators burn tyres and block roads during the Jammu Bandh on Monday in protest against the Kishtwar massacre in Doda district. — PTI photo |
Govt put on mat over killings
Advani incapable, allege Oppn MPs
New Delhi, August 6
The government today came in for a sharp criticism in both Houses of Parliament for its "total failure" to deal with the situation in Jammu and Kashmir with members cutting across the party lines and demanding a statement from the Home Minister on the recent massacre in Doda district.
In Education Tribune today
THE TRIBUNE MAGAZINES
On Mondays

On Sundays
On Saturdays
Phoolan's relatives come to blows
New Delhi, August 6
Hours after a show of rapprochement, supporters of Phoolan Devi's blood relatives and husband Umed Singh came to blows on her 13th day rituals today forcing police intervention to defuse tension.
Cops looking for two more suspects
New Delhi, August 6
With eight accused already arrested in the Phoolan Devi murder case, the police is now hunting for two more persons, who are believed to have helped the main conspirators.
IN PASSING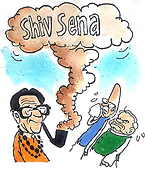 by Sandeep Joshi
Punjab to abolish octroi by Aug 15
Ludhiana, August 6
In a major decision which may have far-reaching political and financial implications, the Punjab government is understood to abolish the octroi in the state by August 15.
5 held for bid to sacrifice child
Jalandhar, August 6
The district police has unveiled a tale of abduction of an 11-month-old infant for sacrifice before a goddess to fulfil the wish of a childless woman, with the arrest of five persons. The child has been restored to his parents by the police.

Man tied to tree for 7 years
Talwandi Malian (Moga), Aug 6
In a shocking case, a 35-year-old mentally challenged man of this village, 50 km from Ludhiana, has been chained with a tree for the past more than seven years allegedly by his family members.
Jagtar Singh chained to a tree at his house in Talwandi Malian, Moga, on Monday. — Photo Inderjeet Verma
Bodies cremated, curfew in Bhaderwah
August 6, 2001
Ultras massacre 17 in Doda
August 5, 2001

UTI crisis resolved
August 4, 2001

Motion on UTI defeated
August 3, 2001

Vajpayee opens his heart
August 2, 2001

Vajpayee offers to quit office
August 1, 2001

Parliament security being revamped
July 31, 2001
Vajpayee to visit Pak
July 30, 2001
Pankaj gets 10-day police remand
July 29, 2001
Report opposes PM-level talks
July 28, 2001