Advani must quit: Cong
Shiv Sena also joins chorus
New Delhi, August 8
Expressing serious concern over the continued killings of innocent people in Jammu and Kashmir, the Congress today sought the resignation from Home Minister L. K. Advani. The party said it would press for Mr Advani's resignation in Parliament also.
In Science Tribune today
THE TRIBUNE MAGAZINES
On Mondays

On Sundays
On Saturdays
Defence officers seeking VRS
Shortage of personnel in armed forces
New Delhi, August 8
A serious shortage of personnel at all levels stares hard in the face of the armed force with an increasing number of officers and men seeking voluntary retirement and the youths staying away from the Services in preference to the lucrative job opportunities in the civil sector.
CM gets free hand on nominees
PAC meets on Assembly elections
Chandigarh, August 8
Playing a political master stroke, the President of the Shiromani Akali Dal, Mr Parkash Singh Badal, today acquired all powers to select party candidates for the coming Assembly elections in the state.
IN PASSING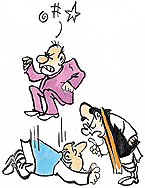 Be brave, we have to bear all this for the sake of 'coalition dharma'!

by Sandeep Joshi
Suspend Bhullar, says Punjab
Chandigarh, August 8
The Punjab Government has recommended the suspension of Additional Director-General of Police Daljit Singh Bhullar to the Union Government after his conviction in a triple murder case.
SGPC panel indicts Bibi's ex-PA
Amritsar, August 8
A five-member inquiry committee comprising Shiromani Gurdwara Parbandhak Committee members has indicted Mr Harjit Singh, Assistant Secretary and former personal assistant to Bibi Jagir Kaur, for excess recruitment.



66 years gone, but no rail line
Qadian (Gurdaspur), August 8
The project to lay a railway line from Qadian — the headquarters of Ahmadiya Muslims — to Ambala has been hanging fire for the past 66 years. A survey in this regard was conducted during the British regime in 1935.

Remains of the railway line which was planned to link Qadian with Ambala. — Photo Rajiv Sharma
Ultras open fire at Jammu railway station, kill 9
August 8, 2001
Caravan of peace to Pak will continue: Jaswant
August 7, 2001

Bodies cremated, curfew in Bhaderwah
August 6, 2001

Ultras massacre 17 in Doda
August 5, 2001

UTI crisis resolved
August 4, 2001

Motion on UTI defeated
August 3, 2001

Vajpayee opens his heart
August 2, 2001

Vajpayee offers to quit office
August 1, 2001

Parliament security being revamped
July 31, 2001
Vajpayee to visit Pak
July 30, 2001