Sena activists lathicharged
Jammu districts declared 'disturbed'
Jammu, August 9
The Jammu and Kashmir Cabinet today declared all six districts of Jammu region as disturbed areas under the Armed Forces (J&K) Special Powers Act, 1990.
SPECIAL REPORT
Acts won't change operations
Central exchequer's burden will increase
Jammu, August 9
Will the promulgation of the Disturbed Area Act and the Armed Forces Special Powers Act bring about a material change in the alarming security situation in Jammu and Kashmir?
In Arts Tribune today
THE TRIBUNE MAGAZINES
On Mondays

On Sundays
On Saturdays
USA talks tough on trade terms
New Delhi, August 9
Washington today sent a strong message that India may end up on the losing side of the global trade framework if it continued to oppose a fresh round of trade negotiations.
Badal, Chautala meet PM on MSP hike
New Delhi, August 9
With an eye on the assembly poll Punjab Chief Minister Parkash Singh Badal met Mr Atal Behari Vajpayee here today along with Mr Om Prakash Chautala of Haryana and Mr Chandrababu Naidu of Andhra Pradesh.
IN PASSING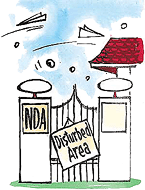 by Sandeep Joshi
Sinha allays fears on rupee fall
New Delhi, August 9
Union Finance Minister Yashwant Sinha today expressed confidence that the Indian rupee would continue to remain stable in the foreign exchange market despite the global credit rating agencies' decision to downgrade the country's local currency rating.

Ashok Bhan appointed SC Judge
Chandigarh, August 9
Mr Justice Ashok Bhan of the Karnataka High Court has been appointed a Judge of the Supreme Court.




Ranjit Singh kicks up fresh row
Issues back-dated directive


Amritsar, August 9
Can a back-dated directive of Akal Takht be issued? The issue may kick up a fresh row, as Bhai Ranjit Singh, who was unceremoniously removed as Jathedar, Akal Takht, in early 1999, has issued a back-dated directive regarding the much-publicised Talwara gurdwara controversy.
Jammu to be under Disturbed Area Act
August 9, 2001

Ultras open fire at Jammu railway station, kill 9
August 8, 2001

Caravan of peace to Pak will continue: Jaswant
August 7, 2001

Bodies cremated, curfew in Bhaderwah
August 6, 2001

Ultras massacre 17 in Doda
August 5, 2001

UTI crisis resolved
August 4, 2001

Motion on UTI defeated
August 3, 2001

Vajpayee opens his heart
August 2, 2001

Vajpayee offers to quit office
August 1, 2001

Parliament security being revamped
July 31, 2001