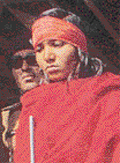 Phoolan Devi
Some stolen goods were found in their home and she spent a fortnight in police custody. Her statement was prefaced by a note by a police officer describing her as "about 20 years old; wheatish complexion, oval face; short but sturdily built". Phoolan's statement read: "I am the second daughter of a family of six children, including five girls. The youngest is a boy, Shiv Narain Singh. We belong to the Mallah caste and live in a village called Gur-ka-Purwa. At the age of 12 I was given away in marriage to a fortyfive-year-old widower, Putti Lal." Then she talks of her second 'marriage' to Kailash in Kanpur. Later in the afternoon I got the rest of her life story from her mother, Muli. "Phoolan Devi was too young to consummate her marriage and came back to us after a few days. A year or two later, we sent her back to her husband. This time she stayed with him for a few months but was unhappy. She came away without her husband's permission, determined not to go back to him." It would appear that she had been deflowered. Her mother describes her as being "filled up" — a rustic expression for a girl whose bosom and behind indicate that she has had sex. It would appear that she had developed an appetite for sex which her ageing husband could not fulfil. Her parents were distraught: a girl leaving her husband was a disgrace. "I told her to drop dead," said her mother, "I told her to jump in a well or drown herself in the Yamuna; we would not have a married daughter living with us." Phoolan picked up a liaison with the son of a village headman. The headman's son invited his friends to partake of the feast. Phoolan Devi had no choice but to give in. The village gossip-mill ground out stories of Phoolan Devi being available to anyone who wanted to lay her. Her mother admitted: "The family's pojeesun (position) was compromised; our noses were cut. We decided to send her away to her sister, Ramkali, who lived in Teonga village across the river."
It did not take long for Phoolan Devi to find another lover in Teonga. This was a distant cousin, Kailash, married and with four children. He gives a vivid account of how he was seduced by Phoolan: "One day I was washing my clothes on the banks of the Yamuna. This girl brought her sister's buffaloes to wallow in the shallows of the river. We got talking. She asked me to lend her my cake of soap so that she could bathe herself. I gave her what remained of the soap. She stripped herself before my eyes. While she splashed water on herself and soaped her bosom and buttocks, she kept talking to me. I got very excited watching her. After she was dressed, I followed her into the lentil fields. We made love many times. But it was never enough. She started playing difficult to get." 'If you want me, you must marry me. Then I'll give you all you want,' she said. I told her I had a wife and children and could only keep her as my mistress. She would not let me touch her unless I agreed to marry her. I became desperate. I took her with me to Kanpur. A lawyer took fifty rupees from me, wrote something on a piece of paper and told us that we were man and wife. When we returned to Teonga, my parents refused to take us in. The next day I told Phoolan Devi to go back to her parents I had decided to return to my wife and children. She swore she would kill me. I have not seen her since then. But I am afraid one of these days she will get me".
Phoolan's initiation into dacoity came soon after Bikram Singh, deputy leader of a gang led by Babu Gujjar, met her. Both took fancy to her. She agreed to join them if they spared her younger brother whom she loved dearly. Babu Gujjar was an uncouth and rough man. He liked having sex in the open with his gang watching them. Phoolan complained to Bikram who killed Babu while he was asleep. Phoolan became Bikram's sole mistress. She had a rubber stamp made for herself which she used as a letterhead: "Dasyu (dacoit) Sundari (beauty) Dasyu Samrat Bikram Singh Ki Premika" (Beloved of Bikram Singh, emperor of dacoits).
The Inspector of Police showed me a sheaf of letters written by Phoolan. They began with Jai Durga Mata and went on. "Honourable and respected Inspector General Sahib, I learn from several Hindi journals that you have been making speeches saying that you will have us, dacoits, shot like pye-dogs. I hereby give you notice that if you do not stop bakwas (nonsense) of this kind, I will have your revered mother abducted and so thoroughly raped by men that she will need medical attention. So take heed."
The honeymoon with Bikram SIngh did not last long. Thakurs Lal Ram Singh and Shri Ram killed Bikram on August 13, 1980, and threw his corpse in the Yamuna. They took Phoolan with them to Behmai, kept her locked in a room, raped her repeatedly and marched her naked through the street. On the excuse of relieving herself one night, Phoolan disappeared in the dark.
Phoolan joined another gang led by a Muslim, Baba Mustaqeem. She was not interested in loot; she thirsted for the blood of the Thakurs of Behmai who had murdered her lover, and had raped and humiliated her. She persuaded Mustaqeem to take the gang to quench her thirst. That's what brought her to Behmai on the afternoon of February 14, 1981. They surrounded the village. Phoolan stood on the parapet of a well in the centre of the village and through a megaphone summoned the villagers. She addressed them in the foulest language and asked them the whereabouts of the two Thakurs. The villagers swore they had not seen them in Behmai. She then had them stripped of whatever silver or gold they had on their bodies. She marched two dozen men to an open space and lined them against a wall. She gave them a final chance to disclose where the two men she wanted were. They denied any knowledge. She ordered them to turn around and face the wall, shouted "Jai Durgey Mata" and opened fire with her stengun, leaving 20 dead and two injured. When the news of the massacre broke, Phoolan's name made headlines in the world media. A gangster's moll became "symbol of women's pent-up hatred of women's maltreatment by men".
Phoolan spent 13 years in jail. Phoolan had her life story The Bandit Queen written by Mala Sen, and it was made into a memorable film with the same title by Shekhar Kapur. Thus the poor Mallahin of Gur-ka-Purwa became rich and famous. Mulayam Singh, Chief Minister of UP, withdrew all cases pending against her, had her elected to the Lok Sabha twice and by honouring her, garnered votes of lower-caste and poorest of the poor. She has become proof of the saying "those who live by the gun, die by the gun". Even though dead, Phoolan will never be forgotten.
Promises galore
As I know the sky overhead and the earth below,
You make tall promises, I know.
No, no I am not referring to UTI,
I sang for a prince many hundred years ago
He was delighted to hear my voice, and so
Said to his deevan that I be given
Two hundred mohars, and I leapt for joy
And looked grinningly, to be told by deevanji
"Come tomorrow". When he said smilingly
"Hey, it was only the high spirit in the prince,
And if you don't believe me, ask him personally"
So next morning, with folded hands, I said
"Didn't you promise two hundred mohars, your Majesty?"
"Yes, of course", he said, "Then pray, tell deevanji".
"But why? Did you give me anything?" No, Sir".
"You only made me happy for a while
And for full two days" dismissing me, he smiled
"I too have made you happy. We are quits,
"Aren't we? And since then, I know
Your promises as I know my poverty.
Courtesy: Kuldip Salil, Delhi