Hearing on Chohan's bail plea adjourned
Chandigarh, August 21
Mr Justice Nirmal Singh of the Punjab and Haryana High Court today adjourned the hearing of the anticipatory bail application of self-styled president of the so-called Council of Khalistan Jagjit Singh Chohan for September 10.
Mann flays Advani's proposal on amnesty
New Delhi, August 21
Hardline Akali leader Simranjit Singh Mann today warned that the demand for Khalistan could be revived if Home Minister L.K. Advani went ahead with his "dangerous and explosive" proposal to give amnesty to police personnel facing prosecution for their role in anti-terrorist operations.
PUDA earmarks Rs 26 cr for PF, gratuity
Chandigarh, August 21
The Punjab Urban Planning and Development Authority has made a provision of Rs 26.52 crore in respect of dues payable to its employees on account of contributory provident fund, gratuity and leave encashment.


Sharing of river waters to be poll issue: Cong
Chandigarh, August 21
The general house of the Punjab Pradesh Congress Committee at a meeting today reviewed the political situation and discussed the strategy for the coming Vidhan Sabha elections.


Ailing dept needs attention
Patiala, August 21
The Nephrology Department of the Government Rajindra Hospital here is being managed by a medical officer and an essential medical service like dialysis is not available for patients coming to the hospital from the Malwa belt of Punjab and parts of Haryana.
Remarks on octroi raises furore
Amritsar, August 21
There was bedlam after former Mayor Subhash Sharma made certain remarks regarding octroi collection at a meeting of the municipal corporation here today. Mr Sharma, who had resigned as Mayor on the allegations of moral turpitude attended the meeting for the first time after his resignation in October last year.
Murder triggers protest
Jalandhar, August 21
The traffic on the Jalandhar-Amritsar road remained disrupted for about five hours today following a dharna on the Football Chowk here, by relatives and friends of a local businessman who died under mysterious circumstances at the Central Institute of Hand Tools yesterday.
Man falls into well, dies
Nabha, August 21
Bhupinder Singh (34) of Ghanurki village, near here, was killed after he accidentally fell into a well near Majni village yesterday. His friend, Gian Singh, who tried to save him, was seriously injured. He has been admitted to Civil Hospital, Nabha, with a broken thigh and hand.
PSEB tells man to pay brother's arrears
Pathankot, August 21
A case has been reported from Bharoli Kalan village here in which Mr Darshan Kumar, son of Mr Shanker Dass, vide a notice, was asked by the Assistant Executive Engineer, PSEB Sarna, to clear dues of his brother Jagdish Raj within seven days. If he failed to do so his power connection would be disconnected.


Portion of overbridge caves in
Bathinda, August 21
Even as the work on the bridge over the "khooni phatak" in the city has not gathered momentum, a portion of the overbridge of the city on the Multania railway crossing caved in today. Through the crack that appeared in the footpath of the flyover, rain water flowed down over the rail track under the bridge. Some residents alleged that condition of the bridge, which was inaugurated about five years ago with much fanfare by local politicians, was deteriorating.


A caved-in portion of the overbridge. — A Tribune photo
BSP (Ambedkar) men stage dharna
Kapurthala, August 21
Workers of the BSP (Ambedkar) today the staged a dharna in front of the District Courts in protest against the alleged registration of a false criminal case by the police against party's youth wing state president Jia Lal Nahar and 17 others.
DCs' offices to accept passport applications
Chandigarh, August 21
The Punjab Government has declared the offices of the Deputy Commissioners (DCs) in all districts as "collection centres" for duly filled application forms for the issuance of passports. This has been done to remove several bottlenecks faced by passport seekers at various levels, according to a press note issued by the state government here today.
Probe finds Tehsildar guilty of misconduct
Jalandhar, August 21
The Nakodar Tehsildar and six other revenue officials are in the dock for allegedly causing a huge loss to the state Exchequer by issuing a sale certificate of a piece of land belonging to the Central Government at Bir Baloki village to the bidder in spite of the cancellation of an auction in this regard by the SDM, Nakodar.
Son-in-law held for murders
Bathinda, August 21
The Muktsar police has solved the murder case of Baltej Kaur (52) and her daughter Kanwal Jit Kaur, who were murdered on the night intervening August 10-11 at their residence.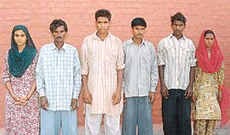 Six accused who were arrested by the police for their alleged involvement in a murder. — A Tribune photo
Man feigns death to be with paramour
Kills village youth for an alibi
Bathinda, August 21
It seems a perfect script for a 'masala' Bollywood movie. A youth of Kothe Kaursinghwala village of this district murdered his friend and disfigured his face beyond recognition. He changed his clothes with those of the deceased and got an FIR registered in the police station at Nahianwala in connection with his murder through his brother.


Teachers' front pamphlets target VC
Patiala, August 21
The Teachers United Front, which commands a majority in the Punjabi University Teachers Association and is stridently anti-Vice-Chancellor, has started a pamphlet campaign on the campus as a run-up to the elections to the teachers' body, alleging that the VC is himself fighting the elections against the body.
ITI overcharging students, says committee
Bathinda, August 21
Students of the Industrial Training Institute here have alleged that the authorities were charging exhorbitant fee. A representative of the Shaheed Kartar Singh Sarabha Memorial Committee, Jaswant Singh said here yesterday that according to rules of the state government, Rs 300 were to be charged from them whereas college was charging Rs 1,800 as fee.