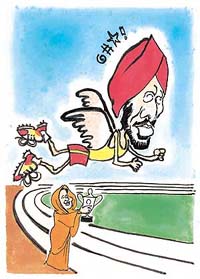 Years later Priscilla volunteered to work for a US-based agency to propagate family planning programmes in India.She was 24 and had had many affairs, including one with a Black American College basketball player. She was posted to a small district town called Zalilgarh (wretched fort) in Uttar Pradesh, not far from Ayodhya. The year was 1989. Communal passions were high. Leaders of the Sangh Parivar were determined to build a RamTemple exactly on the site of the Babri Masjid. Muslims were equally determined not to let them do so. Hindus carrying trishuls marched through Muslim mohallas shouting slogans. Muslims, though outnumbered, armed themselves and manufactured crude bombs to fight them. Two men on whom the burden of maintaining peace rested were Lakshman, the District Magistrate, and Gurinder Singh, the Superintendent of Police, both products of St Stephens College and close friends. Lakshman, a Keralite, had had an arranged marriage to a woman who regarded sex as a loveless duty every married woman had to undergo. They had a daughter who was devoted to her father. Gurinder, who loved his liquor and laced his speech with four-letter words, was a brave man with a heart of gold.
Priscilla ran foul of both Hindus and Muslims because of the work she had to do. She helped a Muslim woman Fatima Bi to abort her seventh pregnancy and earned the dire hatred of her husband, Ali, a motor driver. Leaders of the Sangh Parivar had their own reasons for wanting Priscilla out of their way.
Priscilla turned to Lakshman. Business turned into friendship, friendship led to love. Twice a week they met in a dilapidated fortress some distance from Zalilgarh to watch the sunset. Lakshman was torn between sticking to his loveless marriage and resigning from the IAS to migrate to the USA to start a new life with Priscilla. Gurinder persuaded him to stay on with his family in India. Together they quelled a Hindu-Muslim riot in Zalilgarh by Gurinder shooting down a few marauders and enforcing a curfew on the town. Meanwhile Priscilla who had no concern for Hindu-Muslim tensions went to the ruin to keep her tryst with Lakshman. He did not turn up. Her killers did. We do not know whether they were Hindus or Muslims. Her murder made news in America. Her divorced parents decided to return to India to see where their daughter worked and died.
It is a gripping tale through which Shashi Tharoor encapsules the problems facing present-day India. He does it through press-reports correspondence between different people and interviews obtained by American journalist with the main characters in the tragic drama. The man who comes off best is the hard-drinking, foul-mouthed Gurinder Singh. His last act is to suppress the post mortem report of Priscilla which revealed that she was pregnant when she was killed.
Shashi Tharoor, a senior officer in the UN, has written five novels, including best The Great Indian Novel ó based on the Mahabharata. I have little doubt Riot-A Novel is his best achievement. It is of contemporary importance, unbiased, beautifully crafted and written. If I had my way, I would make it compulsory reading for all hate-mongers: Hindu, Muslim, Christian andSikh. Despite its frequent forays into erotica, it is a novel of historical and moral significance.
When was Rama born and where
"Neither the seven-day week nor the division of the months into 30 days was included in the Hindu calendar, the Panchang, until the fourth century AD. So even if Rama was a historical rather than a mythological figure, you have to get into a lot of guesswork before you date him. The Ramayana has suggestions that Rama lived in the dwapara yuga, about five thousand years ago, rather than the treta yuga of traditional belief. There, a Hindu pundit, and a learned man, though without a degree in history as far as I know, a man called Sitanath Pradhan, who goes so far as to declare that the great climactic battle for Lanka was fought in 1450 B.C. and that Rama was exactly forty two years old at the time. On the other hand, historians dating the existing texts of the Ramayana pretty much agree that it was composed sometime between 400 B.C. and A.D. 200, which is also the period in which that other great epic the Mahabharata was written, give or take a couple of hundred years. Confused enough? Your Hindutva types are presuming to know the exact place of birth of a man whose birthdate is historically unverifiable".
"I know there are people whoíll say, Ignore these pettifogging historians, how does it matter? All that matters is what people believe. But there too, my historianís inconvenient mind asks, when did they start believing it? The Ramayana existed as a text, as an epic, for about a thousand years before anyone began treating it as sacred. There is no evidence of any temple being built to worship Rama anywhere in India before the Tenth Century A.D.".
(Shashi Tharoor in Riot:
A Novel)
Thus spake Milkha Singh
How lucky I am and how great
For only forty years I had to wait
To hit the Arjuna mark, because you know
I have been the fastest runner of the country,
The flying Sikh, you called me affectionately
And made me into a legend
of great heart, good humour and foot-spring
When chasing a thief I left him far behind
To prove that I am Milkha Singh
Believe me, with all of you I was laughing
But I am afraid I have to reject this honour
And still praise the Almighty that he could stir
In good time our Sports masters
And save me from being resurrected posthumously
Half a century later
Like the Olympic medallist K.D. Jadhav, the wrestler
And donít you think I should run faster than ever before
Because their Highnesses have formally opened the door
To my fame, and prove that I am Milkha Singh
Of glory and humour the undisputed king,
No longer relaxing.
(Courtesy: Kuldip Salil, Delhi)