Monday, August 27, 2001
On Hardware
Storage enclosure launched
WIPRO Infotech, one of the India's leading IT services organisation announced the launch of NetStor 802S, Storage enclosure. Wipro Infotech is one of the two flagship IT divisions of the $660-million Wipro Limited.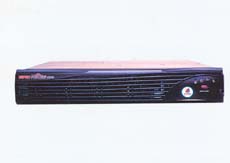 Wipro Infotech has introduced NetStor 802S, Storage enclosure to address the ever-increasing requirements for data storage. The Wipro NetStor 802S is a SCSI (Small Computer Systems Interface)-based storage enclosure in a remarkably compact 7 inch Rack-mount chassis.
Wipro NetStor 802S, packs the biggest, fastest and easiest storage in to a small flexible package.
Based on the industry standard Ultra 160 SCSI (with a peak through put of 160MBps) the enclosure can accommodate up to eight hard drives in Hot Swap Bays. The system is engineered to support the biggest and the fastest 73 GB, 15,000 RPM drives. Using the latest 73 GB Ultra 160 SCSI drives the enclosure can store up to a whopping 584 GB of data. This is further scalable to 1.1 Tera bytes by Daisy Chaining two enclosures.
The Wipro NetStor 802S being a JBOD can support all major operating systemS. Hot swappable redundant power supplies and cooling fans adds to the intrinsic reliability of the product ensuring high availability. For added reliability and performance this system is upgradable to a full-featured Ultra 160 SCSI RAID based storage solution.
— TNS