A server is the backbone of networking. It is a computer or device on a network that manages network resources. Servers are often dedicated, meaning that they perform no other tasks besides their server tasks. On multiprocessing operating systems, however, a single computer can execute several programs at once. A server in this case could refer to the program that is managing resources rather than the entire computer. In a nutshell, it is that device which enables you to interact with anyone on the same network.
No other hardware entity has taken off as fast as servers. Within a span of two to three years, they have gained prominence by becoming a consumer durable item, as ad splashes in the media by various manufacturers indicate.
India has emerged as one of the most stable markets for computer servers in Asia Pacific. In fact, it is the only country in the region to register growth on a quarterly and yearly basis, according to a research study by Gartner Dataquest.
In terms of growth rate, India ranked eighth after, Hong Kong, China, Singapore and Taiwan, according to initial estimates by the research firm. As per media reports, the Asia Pacific server shipment market, excluding Japan, registered a year-on-year growth of 22 per cent for the first quarter of 2001, according to initial estimates by the research company.
Topping the list are Hong Kong and China with growth rates of 68 per cent and 52 per cent respectively, followed by Singapore (27 per cent), Taiwan (18 per cent), India (8 per cent), Australia (3 per cent) and Korea (3 per cent).
Never had MNCs concentrated and improved upon so much on servers as they are doing these days. Spurred on by positive growth various companies with global presence are investing heavily in research and development of the product.
Growth rate of server market in Asia-Pacific region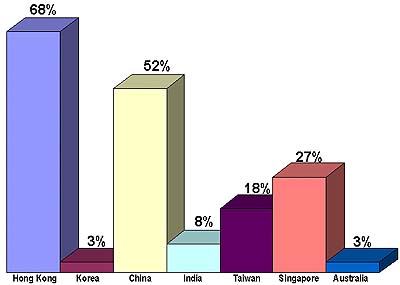 Wipro, for example, recently launched ezyNet, India's first appliance server. It is an all in one appliance server, where the hardware, operating system software and the application software are bundled in as a single product, configured and optimised for dedicated services. It can be installed and configured within 10 minutes is geared to share the files and documents across the network, manage the e-mail on the Intranet and Internet, launch Web sites, and a host of other services like proxy, FTP, TelNet and Firewall. Others may come up with more sophisticated and probably better equipment as competition hots up.
A report of the International Data Corp. (IDC) says that IBM is the market leader in server sales till date. IDC said IBM shipped 61,184 units during the first half of 2000 in the Asia-Pacific region, which was an 18 per cent increase over shipments during the first half of 1999.
"In the first half 2000, IBM increased its revenue and market share in the overall servers market in Japan, Korea and India. Unix servers contributed largely to this growth, though S/390 servers did well in Japan and AS/400 did well in Korea, Hong Kong and Taiwan. In PRC, IBM became the number 1 vendor by units and revenue in the first half 2000, due largely to its good performance in the standard Intel architecture server (SIAS) market," Avneesh Saxena of IDC Asia Pacific said in a press release.
"The market in Chandigarh has increased and the product has really grown. Probably this is so because government is also becoming one of the major buyers besides the private sector," says Deepa, an executive with an IT firm.
Satpal Singh from DataSpec avers that the government is becoming a major buyer because now it has seriously started thinking of e-governance. "At least Haryana Government is serious. As compared to the previous year, the sales have gone up by 25 to 30 per cent," he says and adds that market might get saturated by 2005. "Till then it's party time for sellers as well as manufacturers," he adds.
Sales have indeed gone up. Naveen Beri from Atlantic Technologies also agrees to it. "Till two years ago, Chandigarh's requirement was just 25 to 30 servers. Today it is three times that much. One of the reasons is aggressive pricing. An entry-level server used to cost Rs 1.5 lakh a few years ago. Today you can get a server with the same configuration for Rs 90,000."
A client then used to look for a cheaper alternative by getting a machine assembled with a LAN card installed earlier. He or she does not need it anymore. The companies are obliging.
Research states that Linux-based operating systems were the fastest-growing server operating environment in 1998, growing more than 190 per cent in that year alone and capturing more than 15.8 per cent of the 4.4 million revenue shipment server operating environment market. Red Hat's numerous alliances with industry leaders and the demand for Linux-based applications has created open source support from many of the industry's leading software and hardware manufacturers, including Compaq, Computer Associates, Corel, Dell, Hewlett-Packard, IBM, Intel, Netscape, Novell, Oracle and SAP. Red Hat Linux runs on Intel, Alpha and Sun SPARC platforms.
Saumik Pani, Branch Manager, Tech Pacific, thinks that slowly people are realising that they can rely more on servers for their data than a PC. No disk space tantrums and what takes the cake is that they are up gradable. "Every establishment, government or non-government, big or small, is going in for networking so that what is done at one office should be accessible at the other end. This saves a lot of time and botheration. Earlier, what was being made possible through V-SAT, leased line or the Internet is being done by servers. Software companies are also piggybacking on this spurt in demand to weed off piracy. For example, MS Office, if purchased legally, permits more than 100 users at a single go through one server," Saumik says and adds that the demand is up by 2 per cent for government sector this year as compared to the previous one. "With a common server node anything is possible right from chatting to conferencing."
And it is implied that an ordinary employee is happy with the current set-up. "Earlier, we had to go to the room of our manager whenever we required data on sales, godowns, profits and inventory. Now, the data is accessible," says a Haryana government employee.