THE TRIBUNE MAGAZINES
On Mondays

On Sundays
On Saturdays
Indo-Australian strategic talks today
New Delhi, August 29
In an event of immense strategic importance, the first Indo-Australia strategic dialogue is going to be held here tomorrow, signifying the emerging importance of India in international affairs.
Sudhir Mittal to head PSEB
Patiala, August 29
The Punjab government today gave Mr Sudhir Mittal, presently Secretary, Power and Planning, the additional charge of the Chairman of the Punjab State Electricity Board.
IN PASSING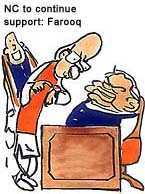 Good news, from last 10 minutes no one has threatened to leave the NDA

by Sandeep Joshi
Complaint filed against Tehelka
New Delhi, August 29
Shakti Vahini, a women's organisation, has filed a complaint against the Managing Director of tehelka.Com, Tarun Tejpal, and his team of reporters.
DISTURBING TRENDS-III
Alarming rise in attacks on cops
Chandigarh, August 29
Of the 73 policemen injured in 63 assault cases in the first eight months of the current year so far, an Assistant Sub-Inspector lost his life as the incidence of attacks on men in uniform has witnessed an alarming 500 per cent increase compared to the figures of the corresponding period last year.



Varsities' SOS to HP Govt on funds
Shimla, August 29
Faced with an acute financial crisis the two universities of horticulture at Solan and agriculture university at Palampur have flashed SOS messages to the Himachal Pradesh governement for bailing them out of he problem due to which they have not been able to pay salaries to the staff in time.
Ultras kill 2 priests, five of family
August 29, 2001

Trinamool Cong, PMK back in NDA
August 28, 2001

Farooq threatens to quit NDA
August 27, 2001

Depoliticise coop institutions: PM
August 26, 2001

Ultras gun down seven cops in Poonch
August 25, 2001

Badal backs Centre on amnesty issue
August 24, 2001

No blanket amnesty for Punjab cops
August 23, 2001

Meeting on SYL deadlocked
August 22, 2001

PM against fresh round of talks at WTO meet
August 21, 2001

Nine Pakistani soldiers killed along LoC
August 20, 2001