THE TRIBUNE MAGAZINES
On Mondays

On Sundays
On Saturdays
G.K. Moopanar dead


Chennai, August 30
Congressman and staunch Gandhi family loyalist G.K. Moopanar died here today after a prolonged illness, raising questions over the future of the Tamil Maanila Congress he founded in 1996 to fight the AIADMK.
SC stays proceedings
Jaya's appeals in Tansi case
New Delhi, August 30
The Supreme Court today by an interim order stayed until further directions the proceedings in the Madras High Court on the appeals filed by Tamil Nadu Chief Minister J. Jayalalitha against her conviction.
IN PASSING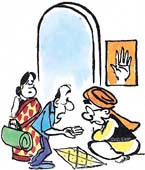 Tell me, is it possible to buy railway safety for one rupee extra?

by Sandeep Joshi
Liberhan panel seeks records
Directive to VHP on Ayodhya issue
New Delhi, August 30
The Liberhan Commission of inquiry today directed the VHP to place before it all records pertaining to its role on the Ayodhya issue on an allegation by commission's counsel that VHP president Vishnu Hari Dalmia was not cooperating in his deposition.
'Names of top MP leaders' in cash book
Bhopal, August 30
The controversy over the alleged payoffs by a liquor baron has taken a dramatic turn with Lokayukta Faizanuddin's disclosure that the seized cash book carries the names of several top brass of the ruling and the opposition parties in Madhya Pradesh.
Sharp rise in attacks on public servants
Common man 'dissatisfied with governance'
Chandigarh, August 30
After doctors and policemen, powermen and employees of the Revenue, Transport and Taxation Departments have been facing public ire.


13 SPs, 20 DSPs reverted
Chandigarh, August 30
The Punjab Government has decided to withdraw the ORP rank given to 13 officers, at present working as Superintendent of Police, besides ordering reversion of 29 "Deputy Superintendents" to their substantive ranks, including Assistant Sub-Inspector and Sub-Inspector.
Sinha may be dropped
August 30, 2001

Ultras kill 2 priests, five of family
August 29, 2001

Trinamool Cong, PMK back in NDA
August 28, 2001

Farooq threatens to quit NDA
August 27, 2001

Depoliticise coop institutions: PM
August 26, 2001

Ultras gun down seven cops in Poonch
August 25, 2001

Badal backs Centre on amnesty issue
August 24, 2001

No blanket amnesty for Punjab cops
August 23, 2001

Meeting on SYL deadlocked
August 22, 2001

PM against fresh round of talks at WTO meet
August 21, 2001

Nine Pakistani soldiers killed along LoC
August 20, 2001