THE TRIBUNE MAGAZINES
On Mondays

On Sundays
On Saturdays
Cong favours amnesty to cops
Payal (Ludhiana), August 31
While strongly supporting general amnesty for all police personnel facing various charges of human rights violations, the Pradesh Congress Committee President Capt Amarinder Singh, has also demanded that all those detainees who are languishing in jails since the time of militancy should be tried in courts and if found innocent they should be immediately released.
IN PASSING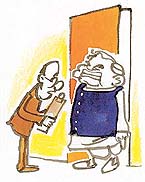 At 10 am Punjab CM will meet you regarding MSP of paddy, at 2 pm Mr Badal will meet you about Bathinda refinery again at 5 pm...

by Sandeep Joshi
Mittal's man is Pro-VC


Chandigarh, August 31
Dr R. N. Pal has been appointed Pro-Vice-Chancellor of Punjabi University, Patiala, for a period of three years. An order to this effect was issued by the Chancellor here today. Succumbing to the pressure of the BJP, the Punjab Chief Minister, Mr Parkash Singh Badal, had recommended his name for the post.
Punjab's no-power-cut town
Bathinda, August 31
History of sorts will be created at midnight tonight when the town-known as the heartland of the Malwa region will become the first free from power cuts.


Amritsar, August 31
The five-century old in-laws house of Bebe Nanaki, elder sister of Guru Nanak Dev at Sultanpur Lodhi, would be preserved through 'kar sewa'. This is the only place related to Bebe Nanaki. The 'kar sewa' would be undertaken by Baba Jagtar Singh who has been busy in the renovation of Sri Akal Takht these days.

The ancient house of Bebe Nanaki, elder sister of Guru Nanak Dev, at Sultanpur Lodhi. — Photo Rajiv Sharma
Lobbies out to scuttle Bathinda refinery
August 31, 2001

Sinha may be dropped
August 30, 2001

Ultras kill 2 priests, five of family
August 29, 2001

Trinamool Cong, PMK back in NDA
August 28, 2001

Farooq threatens to quit NDA
August 27, 2001

Depoliticise coop institutions: PM
August 26, 2001

Ultras gun down seven cops in Poonch
August 25, 2001

Badal backs Centre on amnesty issue
August 24, 2001

No blanket amnesty for Punjab cops
August 23, 2001

Meeting on SYL deadlocked
August 22, 2001