THE TRIBUNE MAGAZINES
On Mondays

On Sundays
On Saturdays
Proof of black hole in Milky Way
(World page)
Baltimore, September 6
A powerful new x-ray telescope has yielded evidence that virtually clinches the case for the existence of a supermassive black hole at the centre of our galaxy, astronomers say.
Shown above is an artist's concept of matter swirling into a supermassive black hole. — Reuters
IN PASSING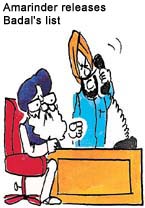 Hello Amarinder ji! Now, listen to the thunder of Badal saab!!

by Sandeep Joshi
Textbook scam: ex-DPI, 4 others booked
Ludhiana, September 6
A former Director, Public Instructions, Schools, Punjab, a serving PCS officer and a high-ranking government official, besides two publishers, have been booked by the state Vigilance Bureau for defrauding the government of lakhs of rupees in what is being termed as the textbook scam.
Robbers loot train passengers, kill 2 cops
Another Director ineligible
MCI denies permission to admit students
Rohtak, September 6
The Medical Council of India has reportedly declined to permit Agroha Medical College to admit students for the current academic session because of staff shortage.


Badal 'gifts properties' to Amarinder
Chandigarh, September 6
The Punjab Chief Minister, Mr Parkash Singh Badal, today extended the open offer to the President of the Punjab Pradesh Congress Committee, Capt Amarinder Singh, to take, not in exchange, but as a free gift all "imaginary" properties such as farms in Jodhpur, Perth, California, a multistoreyed building in Manhattan, parking lots and nightclubs in New York, a house in Sector 5, Chandigarh, Faridkot House in New Delhi and Swiss bank accounts listed in the letter.
Advani for legal armour to cops fighting terrorists
September 6, 2001

SC rejects Jaya's plea on stay
September 5, 2001

Lashkar raids Doda Police Lines, SI killed
September 4, 2001

Don't saffronise education, warn
non-BJP states
September 3, 2001

Six new faces in ministry
September 2, 2001

Cabinet reshuffle today
September 1, 2001

Lobbies out to scuttle Bathinda refinery
August 31, 2001

Sinha may be dropped
August 30, 2001

Ultras kill 2 priests, five of family
August 29, 2001

Trinamool Cong, PMK back in NDA
August 28, 2001

Farooq threatens to quit NDA
August 27, 2001