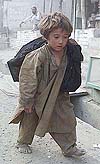 An Afghan boy walks near the Pakistan-Afghan border area at Torkham, scavanging for food on Saturday. —Reuters

Pak ultimatum to Taliban
Islamabad, September 16
Pakistan is to send a team of officials to Afghanistan for talks with the ruling Taliban as President Pervez Musharraf battled to win domestic support for his commitment to help the US combat international terror.

India offers conditional help
Says destroy terrorist training camps in Pak, PoK
New Delhi, September 16
India is understood to have conveyed to the USA that it is willing to give all help if the US-led multinational forces attack and destroy terrorist training camps in Afghanistan as well as Pakistan-occupied Kashmir (PoK).

Sikh, Pakistani shot in USA
New York, September 16
A 52-year-old Sikh and a Pakistani were shot dead in Arizona and Texas in continuing attacks on ethnic immigrants following last week's terrorist strikes in the USA.
In Agriculture Tribune today