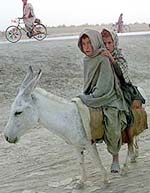 Bacha Gul and his younger brother Zarghoon ride their mule on Friday in search of work, which scarce after Pakistan closed its borders with Afghanistan. The boys would make Rs 50 ($0.80) a day by carrying fruits from Pakistani orchards to the bordering Afghan market of Veesh.
— Reuters
UAE snaps ties with Taliban
Dubai, September 22
The United Arab Emirates today cut diplomatic relations with Afghanistan's ruling Taliban movement, the official UAE news agency WAM reported.
Afghan oppn team to meet ex-king
Islamabad, September 22
The Afghan opposition alliance today sent a team of officials to Rome for talks with ex-king Mohammad Zahir Shah on a future government for the war-ravaged country if possible US attacks depose the ruling Taliban.
Bush says US economy still strong
Washington, September 22
After a brutal week of selling on Wall Street, company layoffs and airline cutbacks, President George W. Bush today sought to reassure Americans that the US economy was "fundamentally strong.''
Refuelling: India to 'consider' US request
New Delhi, September 22
India will "consider" extending refuelling and other logistical facilities to the USA if requested by Washington in the wake of possible air strikes on Afghanistan, Home Minister L.K. Advani said today.