THE TRIBUNE MAGAZINES
On Mondays

On Sundays
On Saturdays
IN PASSING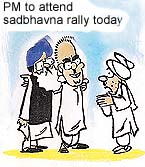 Sir, you have enough time. Why don't you solve inter-state disputes also?

by Sandeep Joshi
Arvinder Singh, from Silver Spring, joins in an inter-faith memorial service at the Lincoln Memorial on Sunday in Washington. The memorial, for the victims of the September 11 terrorist attacks, was sponsored by the Afghan-American community and was a fund-raiser for the American Red Cross.
— Reuters photo
Security forces to turn heat on J&K ultras
New Delhi, September 24
Security forces stationed in Jammu and Kashmir are preparing ground to launch an all-out offensive against the mercenaries and militants holed up in different parts of the disturbed state.
Grenade attack on BSF camp
Srinagar, September 24
At least two BSF personnel were injured when militants fired about six grenades towards their camp in the high-security Karan Nagar area of the city today while elsewhere in the state, nine militants, including two Pakistani intruders, were among 13 persons killed overnight.
Nationalise rivers, says Haryana
Punjab opposes RBO
New Delhi, September 24
The Punjab and Haryana governments today expectedly expressed diametrically opposite views on the allocation of water between various states in the country at the second meeting of the Working Group of National Water Resources Council here.
USA lifts sanctions partially
September 24, 2001

India won't add to Pak problems: Jaswant
September 23, 2001

Taliban reject US ultimatum
September 22, 2001

Clerics ask Laden to leave Afghanistan
September 21, 2001

Taliban ready for talks
September 20, 2001

Taliban set terms
September 19, 2001

Taliban refuse to hand over Bin Laden
September 18, 2001

USA gears up for war; Taliban firm on Laden
September 17, 2001

US marines reach Pak to target Laden
September 16, 2001

USA prepares for war
September 15, 2001

USA mounts pressure on Pak
September 14, 2001