Sunday, September 30, 2001
Bridge
Seeing all four hands
by Omar Sharif
IT took me quite a little while to spot the winning line on this deal found in the International Bridge Press Association bulletin. And I had the advantage of seeing all four hands!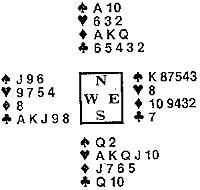 West dealt with East-West vulnerable and passed. North opened One Club and South ended in Four Hearts.
West led a top Club and continued the suit, forcing declarer to ruff the third round. Two top trumps revealed the bad break and now, although there were 10 top tricks, the Diamonds were blocked.
As West held length in both Hearts and Clubs, any attempt to play off three top Diamonds before drawing the last trumps was doomed to failure and simply drawing trumps would leave South without an entry and dummy with two more losers.
Nevertheless, there was a neat solution and one that would not have been impossible to find at the table.
Consider: West can hardly hold the King of Spades as well as his good Clubs, for he passed originally.
Placing the King with East therefore, South does draw all of the outstanding trumps but he makes the spectacular discard of the Ace of Spades from dummy.
Then the three top Diamonds are followed by the 10 of Spades, forcing an entry to South's hand, and East is helpless.
It reminds me of some chess problems where the key play is doing the most improbable thing in sight.