Price on a baby's head
Adoption is big business in the USA. Well-heeled but childless Americans can be assured of finding healthy, white newborn babies through a booming commercial network of agencies, lawyers, Internet services and consultants. The Baby Business on BBC on September 30 at 2.40 p.m. examines the pros and cons of this trade in infants.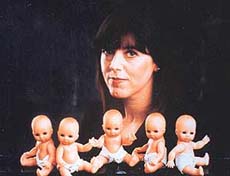 The Baby Business: Examining the adoption racket

This is a market-driven industry where there is only the thinnest line between buying a child and paying the adoption services that lead to a child. The effect is the same. If you have money, the baby of your dreams is out there. Race, special needs and age means some children command only a fraction of the price of a healthy white US newborn.
The days of paternalistic social services controlling the placement of infants are over. In the USA today a mother by birth can insist on an open adoption where she maintains contact with her child and the new family indefinitely. But the real power and the serious money lies with the agencies which co-ordinate the match.
The Baby Business investigates the adoption industry, from the small non-profit agencies run by social workers committed to pennes, to the "baby brokers" who use the complex web of interstate laws to charge their clients exorbitant fees.
Starry-eyed
She's the face which the small screen producers would give a fortune for. Ramneek Paintal, the former Miss Delhi, is just a step away from stardom. She's already done campaigns for Siemens and Whirlpool and walked the ramp for leading designers.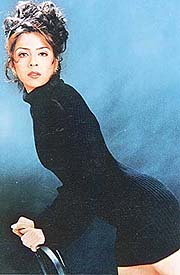 Ramneek Paintal: Glamour all the way

Till a couple of months ago, the most exciting thing she had done was to co-anchor Liberty Public Demand show alongwith Roshan Abbas. Now, of course things are changing fast after the release of the new album, Blue Fire.
The re-mixed album includes such vintage numbers as Piya Tu Ab to Aajaa, Har Kisiko Nahin Milta and more. The video of the song Unse Mili Nazar — Rafta Rafta features Ramneek at her stunning best.
Needless to say, after seeing her on the video a number of TV producers are getting ideas — of signing on this graduate of Delhi's Jesus & Mary College, for their forthcoming serials.
According to reports, the 5 feet 7 inches young lady has already started examining offers. Says the high-flying model, "I would't mind becoming a top TV star." With her kind of looks, neither would the viewers!
Fun & masti show
What happens when you mix two whacky hosts, a celebrity and 200 fans? Complete Paisa Vasool.
Hosted by the inimitable duo of Naved Jaffrey and Ravi Bhel, Paisa Vasool every Thursday on SABe TV at 8 p.m. is a fun-based amusement show woven around a celebrity and invited audiences.
The show gives you more than your money's worth of entertainment as it looks beyond the public face of celebrities. It catches them unawares in their private, sometimes even embarrassing, moments.
Spontaneous and funny, the show will guarantee half hour of entertainment every week. The only problem with this otherwise interesting programme is the quality of celebrities it sometimes gets. But then, it's no easy job getting hold of a prominent personality week after week.
No bubble in this soap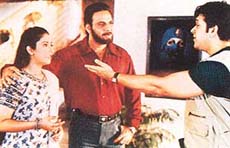 Scene from Nakhuda: Familiar territory

Another soap, another story on relationships, another business rivalry on the offing. We've heard and seen it all before. Most soaps portray virtually the same story but with a few variations here and there.
Nakhuda on UTV, every Tuesday at 8 p.m. is no exception. It's the story of the complex relationship between a father and daughter and the enthusiasm shown by the father in saving that relationship.
Intertwined in this plot is an intersting mystery which is a saving grace for the serial that should have otherwise fallen flat on its face.
Jaws!
Sharks have lived on this planet for 400 million years, surviving the Ice Age, the Stone Age and every age since. Ranging from three feet to 15 metres in length, they glide through deep dark seas and tropical oceans eating squid, snails, fish and even tin cans and shoes.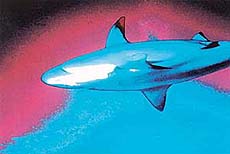 Shark Weekend: Ultimate predators

Feared by humans as well as creatures of the sea, some can turn their stomachs inside out while others are constantly shedding their razor sharp teeth. In Shark Weekend September 30, 9 a.m., Discovery Kids patrols the world's waters to learn about these most efficient predators that have no bones in their bodies.
Grey and swift, the shark hones in on its prey with a lethal array of five separate long-range sensors. The shark's evolution into the ultimate predator is the subject of this master reference guide.
Young viewers also learn how to survive a shark attack from 12-year-old Melissa who was attacked by a tiger shark. While being pulled underwater, she recalls valuable information she learned at an aquarium that enabled her to fight off the shark.
They may be the coolest and cold-blooded creatures alive but sharks are not senseless killing machines. They are amazingly well-adapted, underwater hunters who are just trying to remain at the top of their food chain.
— Mukesh Khosla