Green chillies 6
Soya sauce 2 tbsp
Juice of 1 lime
Sesame oil 3 tbsp
Black bean sauce 2cups
Salt to taste
Method:
Wash and clean pomfret and rub with salt and lime juice and marinate for sometime. Steam the marinated fish lightly.
Take a large sized flat tava and pour sesame oil on it and keep on high flame. Add ginger, garlic, chillies and spring onions one by one. Place pomfret on top of these vegetables. Sprinkle soya sauce and cover and cook on low heat for 7-10 minutes.Turn and cook the other side.
To make black bean sauce cook 200gm dark rajma beans till soft. Grind these in a mixer and add 3 tbsp sugar,1 tbsp soya sauce five to six cloves of garlic and 11/2 tbsp brown vinegar. Add 2 tbsp cornflour to the sauce mixture. Heat sesame oil and fry the bean mixture for 2-3 minutes. Cool and save it for use(the sauce can be prepared a day in advance).
To serve: Pour 1 cup black bean sauce in a large platter,place the pomfret on top. Cover with the vegetables and oil left on the tava and pour the remaining sauce over the pomfret. Decorate with flowers made from spring onions, carrots and tomatoes and serve hot.
Grilled fish in tomato sauce
Ingredients: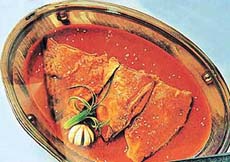 Grilled fish in tomato sauce
Fish fillets (boneless) 350gm
Cheese (grated) 100gm
Olive oil 6 tbsps
Lemon juice 2tbsps
Garlic cloves (crushed) 3-4
Pepper 1/2tsp
Mixed herbs (basil,thyme or oregano) 1/2tsp
Onions 2
Tomatoes 3-4
Green chillies 2-3
Salt to taste
Method:
Mix 2-3 tbsp olive oil,lemon juice,3-4 crushed garlic flakes, pepper,1/2 tsp salt and herbs and marinate the washed and dried fillets with it. Marinate for about one hour and keep turning sides in between.
Pre-heat the oven and grill the marinated fillets in a baking dish at 200 C for 15-20 minutes.
Meanwhile,heat 3 tablespoon olive oil in a pan and add finely chopped onions to it. Stir for a minbute. Add chopped green chillies,tomatoes,salt and red chilli flakes. Cook till well blended and remove from fire.
Cover the grilled fish fillets with the tomato sauce. Sprinkle grated cheese and grill for 2-3 minutes more. Garnish with lemon wedges and spring onion flowers.
Garlic prawns
Ingredients:
King prawns 600 gm
Ginger- garlic paste 2 tbsp
Tomato sauce 2 tbsp
Soya sauce 2 tbsp
Red chillies 10
Garlic flakes 10
Sesame seeds 2 tbsp
Green chillies 3
Coriander 1 tbsp
Sesame oil 3 tbsp
Lettuce leaves one bunch
Salt to taste
Method:
Shell and devein prawns.Wash twice and marinate in salt and soya sauce for 2 hours.Place 2 1\ 2 cup water in a flat vessel and add prawns,ginger-garlic paste,1 tsp ajinomoto and tomato sauce and boil till the prawns are tender.Grind garlic,chillies,sesame seeds mix in vinegar and cook over low heat for 10 minutes.
Place finely chopped lettuce in a bowl and arrange the prawns with their heads up.Sprinkle hot sauce on top of the prawns and serve.
Stuffed fish
Ingredients: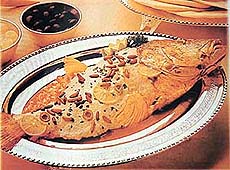 Stuffed fish
Pomfrets (medium size) 4
Mushrooms 3/4cup
Grated cheese 1/2cup
Tomatoes (chopped) 3/4cup
Eggs 3
Bread crumbs 3/4cup
Chilli powder 2tsp
Turmeric 3/4tsp
Pepper 1 tsp
Juice of 2 limes
Oil 3tbsps
Salt to taste
Method:
Wash the fish and clean the insides. Make a cut from head to tail.Rub salt inside out. Sprinkle pepper powder and put lime juice on the fish. Rub chilli and turmeric powder on the outside and set aside.
Cook the mushrooms in 2 tbsp of butter and add grated cheese to these when soft. Divide this mixture into four parts and stuff the pomfrets. Seal with toothpicks or tie a string aroud the cut portion.
Brush the fish with beaten eggs and roll in bread crumbs. Heat oil in a large frying pan and shallow fry the fish one by one on low flame till golden on both sides.
Testing fish for ''doneness''
Insert a fork into the fish and twist gently. At the ''just done ''stage the fish will flake apart easily .If it resists flaking and has a transluscent pinkish white colour,it is not done.
A dry and mealy texture, on the other hand, indicates that the fish overcooked.