Heading the list are Naseeruddin Shah, Kulbhushan Kharbhanda, Lillette Dubey, Rajat Kapoor, Shefali Shetty, Vasundhara Das. While Shah was away in London touring with Peter Brook's Hamlet and attending the Toronto Film Festival, we spoke to Lillette Dubey, Rajat Kapoor and Shefali Shetty who play key characters in the film.
Says Lillette Dubey:
"I believe the film got a 20-minute standing ovation. I feel so proud, wish I was there. I play Pimmi Aunty, Naseer's wife and the mother of the bride, who is Vasundhara Das. Shefali plays my niece and my real daughter Neha also play one of my nieces. Unlike other roles I have done so far in films and theatre which are mostly dramatic, strong and intense, this one had more of humour. Mira and I go a long way back to our days in Delhi as we both come from there and were together in theatre. I'm always excited by people who are very passionate about their work and Monsoon Wedding is a film close to her heart after Salaam Bombay. I say this because it was a film she had visualised very clearly. The people, the family she's portrayed in the film are real people, her own people, the ambience of Delhi is her own. She knows the culture there. I remember that though she was keen I play Pimmi Aunty, she had her doubts. She thought I was too skinny, too sexy for the part. I knew how she imagined Pimmi Aunty to be — a rounded, voluptuous woman who is all hyped out and worked up because of the wedding. I told her I'd pad myself for the role. After all, being an actress meant having to transform oneself for a role. There has to be a marriage of many factors to make a film work but above all the director has to have a clarity of vision, which Mira has. Her passion and conviction is such that it permeates the work she is doing and the people she is working with. Only when that happens, a piece of work works. Whether it will make money or not, win awards or not is secondary but first and foremost it should work as a piece of work and it does. The script is superb. It's very true to life and very unpretentious. The characters are real and so have different moments which make them multi-dimensional. That's the beauty of the film".
Rajat Kapoor adds: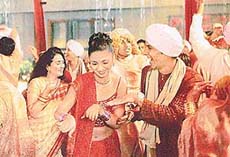 A Punjabi family steeped in the 'dotcom culture' depicted in prize-winning film Monsoon Wedding

"I play the patriarch of the family, a 60-year-old who has come for the wedding from the USA with his family. He has a dark past and a present too. I didn't like anything about my character. It just scared me. Mira wanted me to play it and I decided to do it. Simple. Besides the ensemble of actors, a very talented bunch, she had gathered for the film was too good. I would not have given away the opportunity to work with people like them. Mira is a superb director a very warm person. That film is very close to her heart as the background and the ambience is very familiar to her. She's worked hard at it and it's worked for us.
Shefali Shetty gushes:
"The film winning the award — is like a dream, absolutely amazing. I play Ria, a woman in her late twenties who is single and sticks out like a sore thumb in a family which is typically Punju. It belongs to the dotcom culture, is into kitty parties and so on. Ria wants to be a writer and her only bonding is with her uncle who in Naseerbhai. It's she who reveals a family secret and not its up to the family to either support her or go about the wedding as though nothing had happened.There was a lot of fun and love on the sets.
Naseerbhai conducted acting workshops and all of us went through rehearsals, improvisations on scenes and so on. It worked beautifully as everything was so planned. The script was in place, the scenes and schedules were known in advance. It must have been tough for Mira to shoot the film as it had 65 characters and at any given point of time, the scenes were shot with 25 to 30 persons. What I liked about her is that amidst all the tension of shooting, she had one little moment to spare for each one of us and make us feel special.For instance, there was a scene which had me and it was very hot and chaotic. Just as she explained the scene and was going to her screen monitor she stopped and told me 'I'm sorry your scenes had to be shot in the end.' That touched me. She would connect with all of us on a very personal level. The beauty of the film is its like a home video, so real, the emotions are complex but those one has gone through or seen others going through them. Everything was like 'that could have happened'. The rehearsals helped as the film is about this big family and everyone had to look bonded and connected, so we all do look like one big happy family."