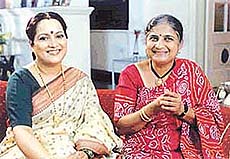 Himani Shivpuri with Sudha Murthy, on whose novel the serial is based
"Itís the story of a mother-in-law who thinks the Indian daughter-in-law is not as good as her counterpart in the USA ó the Dollar Bahu who lives in the golden land. The mother-in-law craves to be with her son in America and later when she herself spends a year there, she realises that the problems most Indian-Americans face in the USA are similar to those back home and that the grass is not always greener on the other side," says Murthy. Murthy explains that the novel is based on her observations of Indians in America and Indians in India, and the mother-in-law (played by Himani Shivpuri) is the protagonist of her novel. "I am happy that my characters are going to start living and breathing through the serial," beams Murthy.
Dollar Bahu will also give insight about the large, prominent and growing South Asian community in the USA. The serial shows the struggle of Indian immigrants in the USA and the clash of both cultures; one inherent and Indian, the other alien and American.
Sunil Hali himself has been in the USA since 1987 and has interacted with the South Asian community at close quarters. His observations and impressions about South Asians will be reflected in the soap through the interpersonal relationships of the major characters.
Says Sunil, "This is a very important aspect of the serial and another is that we have depicted that the communities have plenty in common and work very closely, socialise, share family happenings and everything else in America. In fact, it is a very healthy relationship and almost clear of political adversity back home." If the serial gets permission to shoot in Pakistan later, it will be the first serial to be shot in India, America and Pakistan.
Dollar Bahu stars Himani Shivpuri, Rakesh Pandey, Mayoori Kango, Chandni Toor, Ismael Bashi, Kunika, Deepak Parashar etc. in prominent roles. ó INFS