Good Lord!
It's prayer time at Zee TV. Or so it would seem considering that the channel is bringing a pantheon of devis and devtas on the small screen.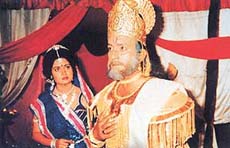 Mahabharata...All new avatar
It currently has on view Jai Santoshi Maa every Friday at 8 pm. and Jai Jai Tridev on Sundays at 8.30 a.m. Sanjay Khan's Mahabharata at 10 p.m. is creating a stir and B.R. Chopra's all new Ramayana is mopping up high ratings.
God! have people at Zee suddenly turned to religion in a big way? Yes, they certainly have. The reason for this phenomenon is not far to seek. Because of captive viewership and advertising megabucks, every channel is sending up its prayers to a variety of gods.
Religious epics have traditionally been the preserve of Doordarshan. Being a government-sponsored channel, it had the kind of resources required to sponsor such mega-budget productions. Secondly, more than 85 per cent of the corporate advertisement budget earlier went to DD because of its wide reach.
Says a media expert, "The costs involved are phenomenal. But so are the returns." Sanjay Khan claims to have spent Rs 20 crore on producing 52 episodes of Mahabharata But he has all the reason to be optimistic. His Jai Hanuman is said to have raked in a mind-boggling Rs 100 crore for Doordarshan in 1997. Talk about high returns and value for money!
Glamour plus
She may not have set the small screen on fire, but no one can fault this young lady when it comes to clarity of thinking. Naushin Ali who got her big break in Kkusum says that she is not cut out for very intense characters. What she'd be looking for in future would be roles that project her as a glamorous star.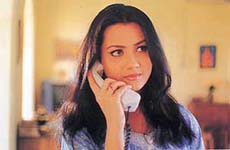 Naushin Ali in and as Kkusum...In search of variety
Not that she's unhappy doing the lead role in Kkusum Tuesdays 9 p.m. on Sony. In this serial she plays the girl next door whose simple sweetness hides the pressure of her middle class existence. She struggles to fulfil the responsibilities of a daughter, a sister and a working girl who wants her parents happy and her brothers and sisters educated.
"It's a dream debut for anyone. But I won't do the middle class girl roles any more because I don't want to be typecast," says Naushin who's been getting offers for similar characters.
An avid watcher of music channels, she says she's telling anyone who listens that she is considering only glamdoll roles. Once she's done a few such cameos her destination would be Bollywood. Though, as of now, she's had to put on hold her movie aspirations as her schedule leaves little space or time for more work.
"As of now, it is television and more television. It is as important a medium as films and it has made me incredibly popular. I haven't decided when I'll switch to films." So, Bollywood honchos will just have to wait till Naushin makes up her mind!
Romance is back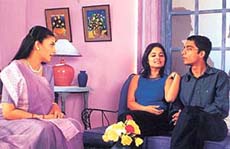 Janam Samjha Karo...celebrity couples
It's been a long sabbatical but despite the problems of getting people on the sets, producer Manju Singh is back with Janam Samjha Karo on DD every Tuesday at 10 p.m. There is a complete makeover of the show with a new set and a different style of presentation.
Anchored by Smriti Malhotra Irani, aka Tulsi of Kyunki Saas Bhi Kabhi Bahu Thi and directed by Mahesh Aaney, Janam Samjha Karo is on interactive show about relationships and marriage featuring celebrity and ordinary couples."The issues", says Singh, "veer around love which is essential in making a man-woman relationship a success. The show not only deals with role of love in a relationship but also delves into the secret of starting and keeping it alive and how people make their marriage a success."
The couples featured in the show have an interesting story to share, starting from how they met and how they have kept the relationship alive and kicking.
Absorbing in terms of content, design and treatment, Janam Samjha Karo connects traditional values with modern attitudes.
Nigel Hawthorne R.I.P.
In 1999, when he was awarded a knighthood the entire television industry said if ever there was a deserving actor it was Nigel Hawthorne. Two years later, there is a pall of gloom as news of his death has brought to an end an illustrious acting career spanning over half a century.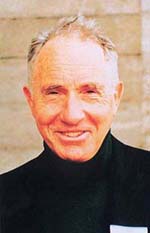 Sir Nigel Hawthorne: A role model
Best known for his portrayal of the scheming and pompous Sir Humphrey Appleby in the BBC political satire Yes Minister and its sequel, Yes Prime Minister, Hawthorne also won acclaim as one of England's best known Shakespearean actors.
He received the Olivier Award for the role of King George III in The Madness of George III. His most recent title role of King Lear, for the Royal Shakespeare Company, won him kudos from even hard-nosed critics.
Making his theatrical debut in Cape Town (South Africa), in The Shop at Sly Corner in 1950, Hawthorne came to England in 1951 where he did over a 100 plays and films. His best known films include Call Me Claus (2001), Demolition Man (1993) and Gandhi (where he played Kinnoch). But what got him international acclaim was his role of Sir Humphrey in Yes Minister, a serial that has been aired in 62 countries, dubbed in 39 languages and over the years has had a combined viewership of over a billion! In India it even spawned a desi version in Ji Mantriji where Jayant Kriplani plays the devious bureaucrat, a role made so famous by Hawthorne.
A scoundrels' gallery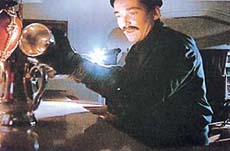 Daring Capers: Lust for money
Money makes the world go round. Some have it, others aspire to have it and some simply steal it. From the narrow streets of Nice in France to the gleaming corridors of Wall Street in New York, Discovery Channel tracks some of the world's most fascinating criminals and their audacious crimes in the premiere series Daring Capers Thursdays, 10 p.m.
This series presents a scoundrels' gallery of bank robbers, art thieves and debonair con artists who tried to steal their way to wealth through brilliant ploys and slick transactions. These are some of the most outlandish and unlawful get-rich-quick schemes ever exposed.
Through dramatisations, archival footage and interviews with witnesses and law enforcement officials, Daring Capers takes viewers down the moral low road into the enticingly dangerous and devilish world of criminals.
Spiderman, Murph the Surf and Sammy the Arab — their names may sound like something out of a comic book, but they are real-life perpetrators of some of the world's most audacious crimes.
A few of their schemes were successful while others were not, but their stories provide some of history's most intriguing and captivating criminal catastrophes. From England's infamous Great Train Robbery to the theft of the precious Star of India, the plots behind these dangerous capers unfold with a wicked intent.Don't miss this captivating series that takes you through the annals of crime committed by people who would in any other circumstance would have been termed geniuses!
— Mukesh Khosla