IN PASSING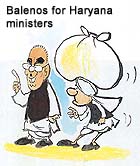 We don't want to put an extra burden on public. So, we have decided to provide Balenos for Ministers instead of Opel Astras.
by Sandeep Joshi
Snow blocks Jammu-Srinagar road
Shimla experiences first snowfall
Jammu, January 15
Heavy snow in the Pirpanjal Ranges in the Doda-Poonch belt blocked the 300-km Jammu-Srinagar highway today, official sources said here. Heavy snow blocked Jawahar tunnel causing vehicular traffic to come to a standstill, the sources said.
4 LeT ultras held in Delhi with RDX
New Delhi, January 15
With the arrest of four terrorist suspects, the Delhi police today claimed to have foiled a bid by the banned terrorist outfit Lakshar-e-Toiba to create panic and disturbance before and during the Republic Day parade.
Display of Tricolour made easy
New Delhi, January 15
The public will be able to display the National Flag with lesser restrictions with the Union Cabinet today deciding to amend the Flag Code from January 26.
TRIBUNE SPECIAL
Time to restore rights to Afghan women


Mohammed Zahir Shah is the exiled king of Afghanistan. He was interviewed by Rina Amiri, senior associate for research at Harvard's John F. Kennedy's School of Government, in Rome last week.
Act fast, don't test our patience,
says George
January 15, 2002

Walk a step, we'll take two, Jaswant tells Pak
January 14, 2002

Musharraf bans LeT, Jaish-e-Mohammad
January 13, 2002

Army chief warns Pak against N-strike
January 12, 2002

Bush assures Advani
January 11, 2002

Advani holds talks with Ashcroft
January 10, 2002
LeT attacks Army camp
January 9, 2002

India rules out talks with Pakistan
January 8, 2002

Vajpayee, Pervez meet
January 7, 2002

Mend your ways, Vajpayee tells Pervez
January 6, 2002

Musharraf gets late coming via China
January 5, 2002