IN PASSING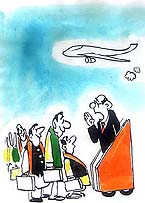 Have patience. Everybody will get a chance to visit the USA!
by Sandeep Joshi
Jammu-Srinagar road reopened
Heavy snowfall in Kashmir valley
Srinagar, January 17
Heavy snowfall continued in many parts of Kashmir valley triggering avalanches even as one-way traffic was restored on the Jammu-Srinagar national highway, which remained closed for the past two days, official sources said today.
'84 riots: Tytler 'led' mob
New Delhi, January 17
Senior Congress leader Jagdish Tytler had led a mob that killed two Sikhs at a gurdwara in the walled city and also burnt the shrine during the 1984 riots, an eyewitness told the Justice Nanavati Commission today.
BJP drops 41 sitting MLAs
Releases lists for UP, Uttaranchal
New Delhi, January 17
In an all-out effort to retain power in the biggest state, the BJP today released the list of candidates for Uttar Pradesh and Uttaranchal dropping 41 sitting MLAs, including three of its own ministers.


Cong manifesto woos farmers
Promises 24-hour power to villages
New Delhi, January 17
The rural population and farmers are the main focus of the Congress poll manifesto in Punjab with the party also promising some sops for the urbanites. The manifesto, which has been submitted to the Congress high-command for final approval, will be released in the next few days.
8 killed in avalanches
January 17, 2002

India gives Pak more time to act
January 16, 2002

Act fast, don't test our patience, says George
January 15, 2002

Walk a step, we'll take two, Jaswant tells Pak
January 14, 2002

Musharraf bans LeT, Jaish-e-Mohammad
January 13, 2002

Army chief warns Pak against N-strike
January 12, 2002

Bush assures Advani
January 11, 2002

Advani holds talks with Ashcroft
January 10, 2002
LeT attacks Army camp
January 9, 2002

India rules out talks with Pakistan
January 8, 2002

Vajpayee, Pervez meet
January 7, 2002