THE TRIBUNE MAGAZINES
On Mondays

On Sundays
On Saturdays

IN PASSING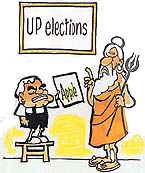 Forget A for Apple. It's A for Ayodhya now!

by Sandeep Joshi
Fly ash flows into Sutlej
Thermal plant dyke breached
Ropar, January 23
Even when the issue of the mass death of fish in Sutlej river near Nangal, allegedly due to release of polluting effluents has been taken up by the Punjab and Haryana High Court, another major ecological catastrophe occurred, when thousands of tonnes fly ash flowed into the river.

13-yr-old schoolgirl abducted
Irate residents take to streets
Noormahl (Jalandhar), January 23
The poll hue and cry got mingled with panic in this sleepy historical township this morning when a schoolgirl was abducted in daylight by three car-borne unidentified youngsters from near Punjab Public School here stirring irate residents to lay a siege to the township for about two hours.
Cong, SAD may not get majority
New Delhi, January 23
Despite the veneer of emerging victors being displayed by Chief Minister Parkash Singh Badal's Shiromani Akali Dal (SAD) and its main Congress rival, there is apprehension in both the camps that the outcome of next month's Assembly elections might leave them tantalisingly short of a majority.


Militancy now irrelevant, fear no longer stalks Zaffarwal
Zaffarwal(Gurdaspur), January 23
''Hurry up, hurry up''. This is how ex-soldier Charan Singh, sporting a white turban and wearing a creamish jacket over snowwhite ''kurta-pajama'', calls the local village boys to board a truck bearing the flags of a particular party. Another village elder, Mr Chaman Lal, assists him. And the boys, obeying his command, gleefully jump into the truck.
US Information Center in Kolkata attacked
January 23, 2002

Send list, we will act fast, Pak told
January 22, 2002

Troops to stay till Pak delivers
January 21, 2002

Pakistan prepares wanted list for India
January 20, 2002

India rules out early talks with Pak
January 19, 2002

Jaswant-Powell talks focus on ultras' list
January 18, 2002

8 killed in avalanches
January 17, 2002

India gives Pak more time to act
January 16, 2002

Act fast, don't test our patience, says George
January 15, 2002

Walk a step, we'll take two, Jaswant tells Pak
January 14, 2002