THE TRIBUNE MAGAZINES
On Mondays

On Sundays
On Saturdays

IN PASSING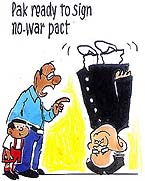 But how do you know he is General Musharraf, my dear?

by Sandeep Joshi
Ultras attack post, kill cop
Srinagar, January 24
Tight security arrangements have been made across the Kashmir valley to thwart any designs of militants to create trouble on the occasion of the Republic Day.
DMK finally moves HC
New Delhi, January 24
After failing to get the Election Commission postpone the high-profile Anandipatti assembly election where aiadmk supremo J. Jayalalithaa is a candidate, the DMK today moved the Delhi High Court seeking deferring of the poll.
Shimla, January 24
The Chief Minister, Mr P.K. Dhumal, today said the Cabinet might take a merciful stand if the CLP leader, Mr Virbhadra Singh and the other Congress leaders indicted by the Kainthla Commission tendered a public apology.
Chief Minister P.K. Dhumal and Congress leader Virbhadra Singh, who have otherwise locked their horns, smilingly discuss a point at Raj Bhavan in Shimla during the swearing-in ceremony of the new Chief Justice on Thursday. — Photo S.P. Sharma
SAD MANIFESTO
Focus on stability, agriculture
Chandigarh, January 24
The election manifesto of the SAD which is being given a finishing touch will focus on political stability and unfold new schemes aimed at ''resuscitating'' agriculture and rural economy and accruing benefits to farmers. Restoration of ''dignity'' of the Punjabis and the Sikhs, besides peace and communal harmony, will also be part of the theme song.
Kolkata attack: no breakthrough yet
January 24, 2002

US Information Center in Kolkata attacked
January 23, 2002

Send list, we will act fast, Pak told
January 22, 2002

Troops to stay till Pak delivers
January 21, 2002

Pakistan prepares wanted list for India
January 20, 2002

India rules out early talks with Pak
January 19, 2002

Jaswant-Powell talks focus on ultras' list
January 18, 2002

8 killed in avalanches
January 17, 2002

India gives Pak more time to act
January 16, 2002

Act fast, don't test our patience, says George
January 15, 2002