M A I N N E W S
John Hume receives Gandhi Peace Prize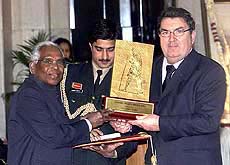 President K. R. Narayanan presents the Gandhi Peace Prize-2001 to John Hume of Ireland in New Delhi on Friday.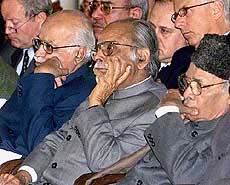 (From left) Union Home Minister L. K. Advani, former Prime Ministers I. K. Gujral and P. V. Narasimha Rao at a function to confer the Gandhi Peace Prize-2001 in New Delhi on Friday.
— PTI photos

New Delhi, February 1
Legendary John Hume, architect of the "Good Friday Agreement," which set in motion the peace process in Ireland, was today presented the prestigious Gandhi Peace Prize for the year 2001 by President K.R. Narayanan at a glittering ceremony in Rashtrapati Bhavan.
The award, which carries a cash amount of Rs 1 crore and a citation, was given to Mr Hume for being instrumental in fashioning the peace process, which has acted as a balm to the centuries' old hardships and suffering of the people of Ireland.
The function was attended by Prime Minister Atal Behari Vajpayee and his Cabinet Ministers, besides leaders of various political parties.
While presenting the award, the President said, "Through his Credit Union movement, through his participation in the civil rights struggle and, eventually, through his inclusive approach of bringing together adversaries to a peace process in Ireland, Mr Hume has abundantly demonstrated his experience in exertions for peace not by "clash of arms," but by "justice lived and done."
The President said Mr Hume, who also won the Nobel Prize, had stated that respect for diversity on the basis of what he called the covenant of shared ideals had become the guiding spirit in Ireland.
In his address, Mr Vajpayee said Mr Hume applied principles of the Gandhian thought and action to bring peace to the troubled Northern Ireland and at the same time elevated the dignity and self respect of his people.
He eschewed violence, reached out to those engaged in violence and played a leading role in bringing together two communities divided by religion, separated by mistrust, but united by geography and destiny.
Tourism Minister Jagmohan said Mr Hume had been a true Gandhian. Like Gandhi, he had been a pacifist to the core and always believed in building bridges between the divided communities. UNI