THE TRIBUNE MAGAZINES
On Mondays

On Sundays
On Saturdays

IN PASSING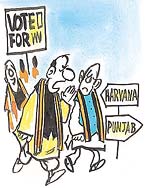 Don't talk about SYL now, Punjab starts from here!

by Sandeep Joshi
Pak blocks Indian flour for Kabul
Karachi, February 1
Pakistan said today it would not permit Indian flour to transit through its territory into Afghanistan after samples tested positive for fungus contamination.
John Hume receives Gandhi Peace Prize
New Delhi, February 1
Legendary John Hume, architect of the "Good Friday Agreement," which set in motion the peace process in Ireland, was today presented the prestigious Gandhi Peace Prize for the year 2001 by President K.R. Narayanan at a glittering ceremony in Rashtrapati Bhavan.
In video (28k, 56k)
John Hume of Ireland with Prime Minister A.B. Vajpayee after receiving the Gandhi Peace Prize-2001 in New Delhi on Friday.
PM, Advani to campaign in Punjab
New Delhi, February 1
To bolster the prospect of victory of SAD-BJP combine in the Assembly polls, cine stars Hema Malini, Vinod Khanna and Mukesh Khanna are likely to campaign in phases in Punjab even as Prime Minister Atal Behari Vajpayee, Home Minister L.K. Advani will be addressing a series of public meetings in the state.
Only paramilitary forces for Lambi
Chandigarh, February 1
The Punjab Assembly elections have caught the Punjab police on a damp wicket as the Chief Election Commissioner has directed the deployment of only paramilitary forces (PMF) both in Lambi, the home constituency of the Chief Minister, and Gidderbaha, where Mr Manpreet Singh Badal, a nephew of Mr Parkash Singh Badal, are seeking re-election.
Ram Temple not on agenda: BJP
February 1, 2002

Jaish dangerous outfit
January 31, 2002

3 holed-up Pak ultras shot
January 30, 2002

Two Pakistanis shot dead
January 29, 2002

Ayodhya issue: ball in Law Minister's court
January 28, 2002


Short-range Agni missile test-fired
January 26, 2002


CM rules out FBI probe into blast
January 25, 2002

Kolkata attack: no breakthrough yet
January 24, 2002

US Information Center in Kolkata attacked
January 23, 2002

Send list, we will act fast, Pak told
January 22, 2002