Sunday, February 10, 2002

Feedback
Promoting promiscuity
THIS refers to "Promoting promiscuity" by Roopinder Singh (December 23). The role of the media and the reason for the popularity of such shows must be explored. A broader discussion on ethics, culture and censorship is, perhaps, needed.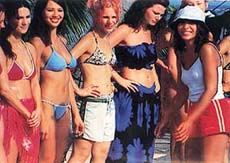 Promiscuity and voyeurism are not essentially foreign imports. Pornography panders to the repressed desires of the people. This would explain the popularity of such shows, movies and tabloids.
Sex is as essential a part of human psyche in India as it is in the West. Perhaps, the comments made are more in line with the thought processes that shape the irrational censorship regime. A few cuts are made in each movie and then each cut is hyped and later the movies without cuts are easily available on DVDs and videos. Then, there is the parallel world of blue movies. Perhaps promiscuity is part of our existence and denial is the only means we can adopt to keep our conscience clear.
It would, perhaps, be a better move to sanitise our thoughts and our souls. We need to denounce the present culture of denial, of ethics that are preached but not practiced, and of censorship that glorifies and reveals what it wants to hide.
Vivek Sharma, e-mail