Death-defying show
In the post-KBC era everything seems to come attached with a prize. Even adventure. But the good part is that in an increasing number of show rewards are not just a holiday for two at some hotel. They are as big as they get. All you've got to do is to win them. Easy? Well, not exactly. Winning doesn't come easy any more.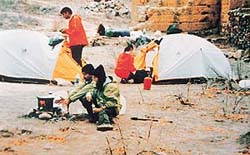 Romance, Adventure, Aap Aur Hum...Big adventure, big prizes

Ask participants on the new show Romance, Adventure, Aap Aur Hum [RAAAH] on Zee TV every Sunday at 12.30 p.m. They will tell you winning those prizes is no cakewalk. It is an ordeal in itself.
Firstly no one has a clue about the pattern of questions that could be asked or what obstacles you would have to surmount. Everything comes as a surprise and mostly an unpleasant one that springs in your face.
It could be a trip to Lahaul Spiti where you could be asked to compete in a mountain bike race up the gradient. It could be river rafting when the tide is menacingly high. It could be skiing down dangerous slopes.
Of course, you are given a crash course in surviving the tribulations. But just about that and no more. Mostly contestants are left to fend for themselves with their wits — a la Survivor.
So why are people thronging to participate in this show produced by Nikhil and Niret Alva? The answer is simple. As in KBC, the prizes here are bigtime — from a house to an expensive car. Definitely worth tempting death for!
On a song
She is the desi Madonna who has been sizzling up the charts ever since she clocked the biggest non-filmi musical hit with Made In India. The album, according to sources sold upwards of 30 lakh copies and turned everyone associated with it into a millionaire.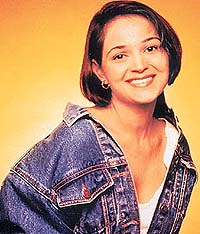 Alisha...A chartbuster again
Though Alisha Chinai's next two albums Om: The Inner Voice and Dil Ki Rani were commercial disasters, she is amongst a handful of popstars who have managed to cling to their numero-uno positions. It is well known that even her flop albums earn more money than an average hit.
Now her latest, Alisha breaks her long sabbatical of nearly two years. And from the hype it is creating this, too, has the look of a winner. For one, the music by Sandeep [Kambakht Ishaq] Chowtha is superb. And the two videos are truly mind-blowing.
For the techno song Seulement-Vous, which means 'only you', the video has been shot in Las Vegas and is being briskly rotated by every television musical channel. The second video of the hypnotic Sufiana song, Ishq Se Ishq is being released to coincide with Valentine's Day.
Originally Ram Gopal Verma was to direct the videos but he could not find time from his tight schedules and Sanjay Gupta did them instead.
"The chemistry has worked. The sizzling video track of Seulment-Vous has become the toast of the Asian and Indian top ten tracks," says Alisha who, thanks to music channels, is once again looking all set for another one-way ticket to superstardom.
Back with a bingo
He's back with his bouncers and boundaries. Harsha Online, the interactive one-hour show on ESPN Star Sports, scored a big hit with the show's new season's first guest who was none other than English Captain Nasser Hussain, recently honoured with Order of the British Empire.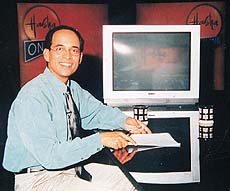 Harsha Online... Gentle bouncers
Presenter Harsha Bhogle, who bagged the Indian Television Academy Award says he has a real treat in store for sports buffs. In the inaugural episode viewers got a chance to come face-to-face with Hussain and got some valuable cricketing insights from him. They also got a never-before opportunity to explore what lies behind that tough, resolute and professional exterior!
This was the first time that Nasser Hussain had ever been interviewed one-on-one on any television channel. Cricket fans also got a unique opportunity to get up close to this very special cricket star who has been universally credited with the English team's remarkable comeback.
With the year crammed with quality cricketing events involving India, this is one show which offers a unique platform to the sports lovers to interact with a veritable 'who's who' of the world of sports and get a new perspective on what's in store for cricket this season.
Scientific woman
Re-live the life of Marie Curie and how her experiments led to the discovery of radioactivity and changed the world. Marie Curie's Radium being aired on the National Geographic Channel on February 22 at 10.30 p.m. starts with the story of one of the most amazing lives of the twentieth century.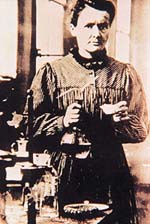 Marie Curie...A life devoted to science

When Marie Sklodovaska came to Paris in 1891 as a young Polish girl to study science she was a misfit. She was a foreigner and a woman in a man's world. But her thirst for knowledge overcame all obstacles. With her marriage to Pierre Curie began one of the greatest scientific partnerships of all time.
Marie went on to discover the radioactive properties of radium which gave mankind everything from the atomic bomb to an understanding of the structure of matter and shaped modern science.
She was awarded the Nobel Prize twice in her lifetime. Her husband became a Nobel Laureate in 1903 and her daughter and son-in-law Irene and Fredric, too received Nobel Prizes in 1935 for the discovery of artificial radium.
Marie Curie lived to witness the implications her work but her life ended in a bittersweet way. Thirty-two years after she discovered radium, it got the better of her. She died of what was then a mysterious blood disease — leukaemia. A few years later her daughter too succumbed to leukaemia caused by her work on radiation.
With footage from vintage archieves, the stunning programme recounts the llye of one of the most amazing women who changed the world forever.
Crime & punishment
Criminal investigations involving death are rarely what they seem. Apparent suicides can sometimes be intricately planned murders and confessed killers turn out to be innocent.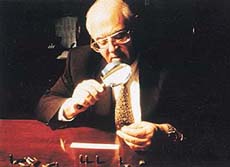 Medical Detectives... True life thrillers

In this world of hatred and deceit, criminal investigators dedicate their time and hard work to seek the harsh reality behind every brutal crime. Relying on cutting-edge technology and forensic medicine, these devoted individuals bring justice to the world.
Discovery Channel features special hour-long episodes of the immensely popular Medical Detectives series on February 20 and March 6 to 20 at 10 p.m. The shows examine the field of forensic medicine and the impact it has had on criminology and crime solving.
Each episode profiles one case, with a detailed description of the actual crime told through re-enactments, archival footage, interviews with the victims' families, witnesses, police detectives, pathologists and lab technicians. Viewers also learn what steps were involved in the investigation and the results of the trial.
The real-life slickly produced series is as gripping as any detective show and would keep you engrossed from the word go. A case of facts being more revetting than fiction.
— Mukesh Khosla