Friday, February 15, 2002, Chandigarh, India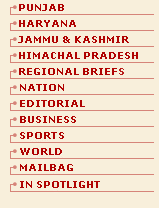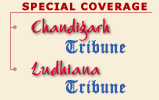 Gen secy of Paswan's party held
Former terrorist also arrested, 14 cars recovered
Ludhiana, February 14
In a sensational arrest by the CIA-I wing of the local police, a state general secretary of the Lok Jan Shakti Party, led by Mr Ram Bilas Paswan, has been caught along with a terrorist-turned-robber for stealing several cars from the city, out of which 14 have been recovered. This is the biggest recovery made by the Ludhiana police in the past several years.
Cops breathe easy as report confirms suicide
Ludhiana, February 14
In a reprieve for the district police, the post-mortem examination of the body of a criminal, who died in custody at the Division Number 6 police station yesterday, confirmed that the deceased had committed suicide by consuming seven proxycon tablets, which had caused his death. The report received today ruled out the possibility of the criminal's death due to torture or police beating, as was being feared earlier.
Driver beaten up by woman SI
February 14, 2002
Liquor flows, despite crackdown
February 13, 2002
Kila Raipur Assembly declared sensitive
February 12, 2002
Jagraon cop booked for aiding candidate
February 11, 2002
Inter-state gang of thieves busted
February 10, 2002
Bride, mother-in-law clubbed to death
February 9, 2002
Tension in village over burning of election flags, banners
February 8, 2002
Political parties defacing walls
February 7, 2002
Bank staff detects fraud in demand drafts
February 6, 2002
PAU authorises Registrar to conduct inquiry
February 5, 2002