M A I N N E W S
14 ultras killed near LoC
Tribune News Service
Jammu, February 15
Fourteen militants were shot dead by the Army in two encounters near the Line of Control (LoC) in Mendhar and Surankote sectors of Poonch district in Jammu region today.
Acting on a tip-off that militants had infiltrated into the Mendhar sector, Army personnel launched an operation to flush them out, Defence Ministry officials said. In the exchange to fire, nine ultras were killed.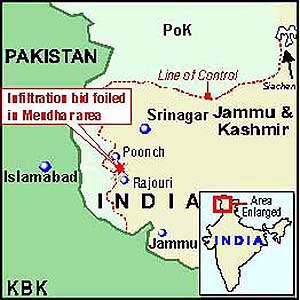 In another encounter, five militants were killed by the security forces in the Dara Sangla area in Surankote sector of the same district.
A large quantity of arms and ammunition, including six assault rifles, a Pika gun, a pistol and bags of explosives were seized from the slain militants in Mendhar.
The ministry officials said agencies across the LoC had pushed into the Indian territory about 25 militants and were in the process of sneaking more of them into Mendhar area when the encounter took place. It is believed that the remaining militants escaped back into the Pakistan territory.
However, massive search operations have been launched in the forest belt of Mendhar to find out if some of the remaining militants had gone into hiding.
The ministry officials said Pakistan had brought several groups of militants, especially foreign mercenaries, to the "launching pads" across Poonch, Rajouri and Kupwara sectors. The deployment of additional troops and weather problems had prevented the Pakistani agencies from implementing the plan of infiltrating big groups of militants into Jammu and Kashmir for fuelling subversive violence.
SRINAGAR: At least five persons were killed in separate incidents in the Kashmir valley since Thursday, while the security forces apprehended a suspect and seized a large quantity of arms and ammunition during search operations. Three militants of the Hizbul Majahideen, including a district commander were killed in an encounter with the security forces in Lolab area of Kupwara district on Thursday night. Three AK rifles, eight magazines and some rounds of ammunition were seized from the site of the encounter.
A militant was killed in an encounter with the security forces near Pahalgam in South Kashmir district of Anantnag on Friday. The police here said a search party of the BSF and the police came under fire from militants at Lagandajan. In the ensuing encounter, a militant was killed and a BSF jawan sustained injuries. The operation was still on when reports last came in.
A suspected militant, Ghulam Rasool, was killed when a search party taking him to a hideout was attacked by militants in Ganderbal area, near here, on Thursday night. A police spokesman said two AK rifles, four magazines, 53 rounds, a UBGL, a wireless set, a binoculars, four UBGL grenades, two handgrenades, three kg of explosive material, two detonators and three metres fuse wire were seized from the site. A jawan, Ajit Singh, was injured in the attack, a police spokesman stated here on Friday.
In another incident, a suspected militant was apprehended with arms and ammunition in Pulwama district, the police said.