The body of an Afghan refugee boy is prepared for burial in a Pakistan refugee camp in June 2001. The boy died after drought and political tensions forced his family to flee Northern Afghanistan. This photograph, by Danish photographer Erik Refner for Berlingske Tidende, topped a record 49,235 entries submitted to the 45th annual World Press Photo of the Year contest by 4,171 photographers from 123 countries, the World press Photo said in a statement on Friday. Judging took place between February 3 and February 14.
— Reuters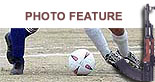 Kabul United take on the International Security Assistance Force in a soccer match in Kabul.
THE TRIBUNE MAGAZINES
On Mondays

On Sundays
On Saturdays

IN PASSING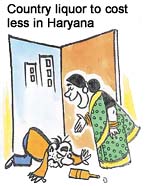 I am proud of you, dear. After all you are making Haryana's economy strong!

by Sandeep Joshi
14 ultras killed near LoC
Jammu, February 15
Fourteen militants were shot dead by the Army in two encounters near the Line of Control in Mendhar and Surankote sectors of Poonch district in Jammu region today.
'Ethnic cleansing' of Hindus in B'desh
New Delhi, February 15
Shahriar Kabir, a prominent Bangladeshi journalist and film-maker, has accused the regime of President Khaleda Zia of "Talibanising" the poverty-stricken South Asian country and alleged that the Hindus were being systematically killed there.
Pilgrims lynch Afghan Aviation Minister
Kabul, February 15
International troops were today patrolling Kabul airport in armoured vehicles after Afghanistan's Aviation Minister was lynched by angry Muslim pilgrims. As the Afghan Government investigated the mob killing, the US Congress began probing the intelligence failure that led to the September 11 attacks on New York and Washington.



Plague: doctors' leave cancelled
Shimla, February 15
The leave of government doctors in the Shimla district has been cancelled by the authorities in view of incidents of the pneumonic plague in Shimla, Rohru and the neighbouring Uttaranchal which have claimed 3 lives. This has been done to keep the doctors available for meeting any eventuality at the district headquarters and in the interior areas.
55 to 90 pc turnout in UP, Uttaranchal and Manipur
February 15, 2002

Violence marks polling in Punjab
February 14, 2002

Flag marches in Punjab on poll eve
February 13, 2002

No referendum on govt: PM
February 12, 2002

Temple construction from March 15
February 11, 2002

Ansari held in UAE, brought to Delhi
February 10, 2002

No deal on N-subs
February 9, 2002

Defence scams insult to soldiers: Sonia
February 8, 2002

Don't rake up coffin issue: PM
February 7, 2002

We'll fulfil vows: Sonia
February 6, 2002