Cong objects to PM's remarks
New Delhi, February 20
The Congress has "deplored" Prime Minister Atal Behari Vajpayee's remarks about BJP winning the Assembly poll in UP even without the support of Muslims, saying that the comments had dangerous implications.


Poonam Dhillon joins Cong

Film actress Poonam Dhillon with Jaipal Reddy and Subbi Reddy after joining the Congress during a Press conference in the Capital on Wednesday. — Tribune photo Mukesh Aggarwal
In Science Tribune today
THE TRIBUNE MAGAZINES
On Mondays

On Sundays
On Saturdays

IN PASSING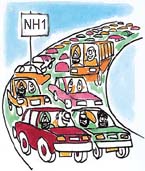 No, this is no road block, it is Punjab Congressmen rushing to Delhi!

by Sandeep Joshi
ISI training ultras to shoot from mobikes
New Delhi, February 20
In a significant shift in operational strategy, Pakistan's secret service "Inter Services Intelligence has started training terrorists to shoot from motor cycles though this has never been the preferred method.


In video: New Delhi today said that Islamabad's unwillingness to handover information related to terrorism in India indicated that Pakistan "had something to hide." (28k, 56k)


IT exemption limit may go up
Mumbai, February 20
The Union Government is contemplating to propose a hike in the income tax exemption limit from the current exemption limit of Rs 10,000 to over Rs 20,000 under Section 80 CCC (1) of the IT Act, 1961, in the forthcoming Union Budget.
Pbi varsity V-C gets stay on arrest
Patiala, February 20
The Vice-Chancellor, Dr J.S. Ahluwalia, today obtained a stay on arrest order till February 26 from the court of Sessions Judge S.N. Agarwal in face of the FIR lodged against him by Ms Saru Rana and moved an application for granting of anticipatory bail.
HPTDC hotels to offer herbal massage
Shimla, February 20
Traditional herbal massage is being introduced this summer in hotels of the HPTDC by the Ayurveda Department as a joint venture. This is part of the "panchkarma", the age-old Indian medicinal system to purify the body, for which a Rs 3.25 crore pilot project will be launched in April.
Thakur confirms it is plague
February 20, 2002

9 hurt in UP poll violence
February 19, 2002

8 of two families killed
February 18, 2002

India rejects Pak plea on list of 20
February 17, 2002

USA rejects Pak plea for mediation
February 16, 2002

55 to 90 pc turnout in UP, Uttaranchal and Manipur
February 15, 2002

Violence marks polling in Punjab
February 14, 2002

Flag marches in Punjab on poll eve
February 13, 2002

No referendum on govt: PM
February 12, 2002

Temple construction from March 15
February 11, 2002