THE TRIBUNE MAGAZINES
On Mondays

On Sundays
On Saturdays

IN PASSING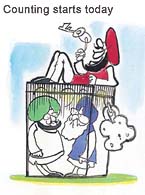 by Sandeep Joshi
Counting of votes today
New Delhi, February 23
Elaborate security arrangements have been made for the counting of ballots for the Assembly elections in Uttar Pradesh, Punjab, Uttaranchal and Manipur which will be taken up tomorrow in the respective states.
Pearl's killers identified
Karachi, February 23
A senior Pakistani police official has said American journalist Daniel Pearl's killers have been identified and will be arrested soon.


In video (28k, 56k)

UK 'joins' Laden hunt in Kashmir
London, February 23
British special forces are hunting for Osama bin Laden in Kashmir after intelligence reports said he had sought the protection of an extremist Islamic group, the Daily Telegraph said today.
Ban on eye camps in open
Chandigarh, February 23
The Union Government has banned eye cataract surgeries in schools, dharamshalas, clubs and other open places with immediate effect.
VC case takes new turn
Dept Head dissociates herself from PUTA
Patiala, February 23
The case of alleged "harassment'' of a girl student of Punjabi University by its Vice-Chancellor has taken a new turn with one of the accused Dr Saroj Rani, who is the Head of the Department of Fine Arts, disassociating herself from the dominant group in the Punjabi University Teachers Association which is championing the case of the VC.


PU Syndicate hikes fee by 10 pc
Chandigarh, February 23
Panjab University Syndicate today decided to hike the fee by 10 per cent in the university and all affiliated colleges from the forthcoming academic session. The hike includes charges on all other accounts except the tuition fees, reliable sources said.
In Her World today
Daniel Pearl killed brutally
February 23, 2002

Voters defy Pak firing, militants
February 22, 2002

Maoists gun down four, burn engine
February 21, 2002

Thakur confirms it is plague
February 20, 2002

9 hurt in UP poll violence
February 19, 2002

8 of two families killed
February 18, 2002

India rejects Pak plea on list of 20
February 17, 2002

USA rejects Pak plea for mediation
February 16, 2002

55 to 90 pc turnout in UP, Uttaranchal and Manipur
February 15, 2002

Violence marks polling in Punjab
February 14, 2002