Monday, February 25, 2002, Chandigarh, India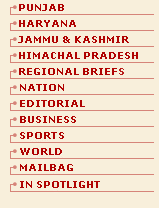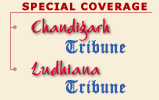 N A T I O N
Sonia consults leaders on UP
New Delhi, February 24
It was a celebratory mood at the AICC today with its workers rejoicing the party's victory in Punjab and Uttaranchal. Party leaders were also hopeful of forming a government in Manipur.
Koshiyari fails to deliver
Mr Bhagat Singh Koshiyari's charisma has failed to gain the BJP in Uttaranchal. The reason is simple: the BJP failed to fulfil the aspirations of the mixed diversities of hill folk and the plains. Thus, the Congress was poised to capture power in Uttaranchal with a majority.
Jaya to return as CM
Chennai, February 24
AIADMK leader J. Jayalalithaa is all set to return as Chief Minister of Tamil Nadu, following her big victory in the Andipatti byelection today and later her unanimous election as leader of the AIADMK Legislature Party in the state Assembly.
Ansari ISI's top target
New Delhi, February 24
Aftab Ansari, the prize catch of the CBI in Kolkata American Center attack case, has become a target of Pakistan's ISI after he spilled the beans by exposing the hawala racket used to send funds to sponsor anti-national activities. A wireless intercept suggested that the ISI had directed some of its conduits in the country as well as neighbouring Nepal to eliminate Ansari at any cost.

Caged Indian escape artist Chanchal Lahiri is lowered into the Hooghly river from Kolkata's Howrah Bridge on Sunday. Lahiri escaped from the locked cage about 15 seconds after it was submerged. — Reuters

CBI drive to unearth black money
February 24, 2002
Fernandes gets a breather
February 23, 2002
Bids for AJT deal hot up
February 22, 2002
Oppn boycotts defence panel meeting
February 21, 2002
Ultras arrested in nationwide swoop
February 20, 2002
Advani: Pak failed on five parameters
February 19, 2002
Influential 'Baba' worries BJP
February 18, 2002
Cong playing double or quits in UP?
February 17, 2002
Vajpayee seeks minorities' help
February 16, 2002
Anti-incumbency factor to weigh against BJP
February 15, 2002