Cong has many vows to fulfil
Chandigarh, February 24
There is change of political guard in Punjab. The Congress is in with a simple majority. The SAD-BJP is out. Waiting for attention are the administrative, financial and economic reforms.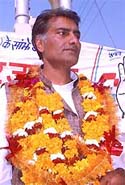 SAD-BJP used unfair means, says Jakhar
Abohar, February 24
Former Lok Sabha Speaker Balram Jakhar has said mandate given by the electorate should be accepted without any reservation. Commenting on the election results at his new grain market complex here today, Mr Jakhar said it was really unfortunate that the SAD and BJP leaders had levelled unfounded allegations against media with reference to opinion polls.



Sunil Kumar Jakhar (Congress), who won from Abohar. — Photo Raj Sadosh

Akali rebels beat 2 ministers
Bathinda, February 24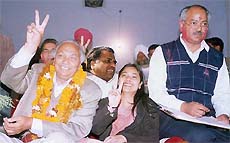 Two Akali rebel candidates, Mr Jeet Mohinder Singh Sidhu from the Talwandi Sabo Assembly segment, and Mr Gurpreet Singh Kangar from Rampuraphul, today sprang a surprise by defeating official candidates of the Congress and the SAD-BJP alliance.

Mr Surinder Singla of the Congress and his daughter acknowledge the greetings of his supporters after winning from the Bathinda constituency on Sunday.
— Tribune photo Kulbir Beera

BJP blames rebels for debacle
Jalandhar, February 24
Stung by its poll debacle, the Punjab unit of the BJP today chose to train its guns on party rebels by alleging that the latter had harmed the party's poll prospects by playing the spoilsport in most constituencies.


Rebel Cong man wrests Mansa seat
Mansa, February 24
The Congress failed to make inroads into this Akali bastion but rebel Congress leader Sher Singh Gagowal created history by wresting the Mansa seat from sitting SAD MLA Sukhwinder Singh Aulakh by a slim margin of 44 votes following a recount.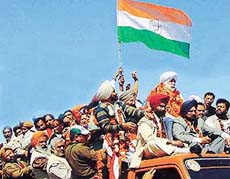 Cong takes 4 out of 5 in Ropar
Ropar, February 24
The Congress took four out of five Assembly constituencies in this district. The SAD-BJP alliance, which had won all seats in Ropar in the last poll, could retain just the Chamkaur Sahib Assembly constituency, from where the SAD candidate, Bibi Satwant Kaur Sandhu got elected second time in succession.

Congress candidate Bir Devinder Singh goes in a victory procession after winning the Kharar Assembly seat on Sunday. — Tribune photo Pradeep Tewari

SAD proves might in Sangrur
Sangrur, February 24
Out of 10 Assembly constituencies of Sangrur district, the Shiromani Akali Dal (SAD) by winning five seats today proved its dominance in the district while the Congress had to satisfy itself with only three seats and remaining two seats were won by the Independent candidates, including Mr Gobind Singh Kanjhla.
Result withheld for two hours
Phagwara, February 24
The Congress-CPI candidate from here, a reserved Assembly seat, Mr Joginder Singh Mann today, wrested the seat from BJP/SAD candidate and Punjab Tourism Minister Ch Swarna Ram, by defeating him by a margin of 1,186 votes even as the official result was withheld for two hours due to a snag in two electronic voting machines, keeping mediapersons, candidates and their supporters on tenterhooks.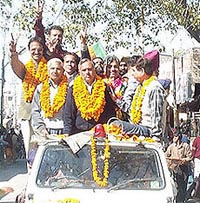 BSP's flop show in Hoshiarpur
Hoshiarpur, February 24
Out of eight segments in the district, the Congress has won only Mukerian, Dasuya and Shamchaurasi seats whereas the SAD-BJP alliance has bagged Hoshiarpur, Mahilpur, Garhshan-ker Tanda and Garhdiwala seats in this Assembly elections.


Winner from Hoshiarpur Tikshan Sood (Akali-BJP) in a victory parade on Sunday. — photo Harpreet Kaur

Chaudhary retains seat for fifth time
Jalandhar, February 24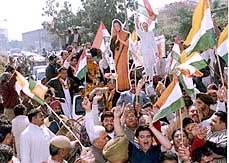 Mr Jagjit Singh Chaudhary, vice-president of the Punjab Pradesh Congress Committee and leader of the Opposition in the Vidhan Sabha, has created a record of sorts by bagging the Kartarpur Assembly seat for the fifth time by defeating his nearest rival Mr Charanjit Singh Atwal of the Shiromani Akali Dal by a margin of 4119 votes.

Congress supporters celebrating their party victory after the results of the Punjab assembly poll, in Jalandhar on Sunday. — PTI photo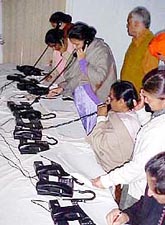 Punjab election office staff busy receiving results from all over the state at Chandigarh on Sunday. — PTI


Langah refuses to sign result card
Gurdaspur, February 24
As many as four out of nine candidates of the Congress have been elected today. The others two legislators elected from the district to the Punjab Vidhan Sabha including Mr Sucha Singh Chhotepur independent, supported by the SHSAD and Capt Balbir Singh of the SAD.
'Ravana' vanquished
Pathankot, February 24
At last 'Rama' has won the battle in Pathankot. In this Assembly constituency, the two veteran artists of different dramatic clubs, Ashok Sharma (INS) and Mohan Lal, Minister for High Education Punjab (BJP), hotly contested the election.
Father-son duo fail to hold on
Jalandhar, February 24
A father-son duo who entered the fray as nominees of two different parties from reserve constituencies of Phagwara and Banga to retain their seats had to face defeat at the hands of the Congress.

Mr Inder Iqbal Singh (SAD) from Kum Kalan.
— PSH

Winner from Kila Raipur constituency Jagdish Singh Garcha (SAD). — PSH