Tuesday, March 5, 2002, Chandigarh, India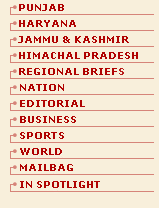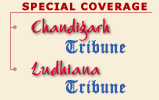 H A R Y A N A
Assembly condemns Gujarat violence
Chandigarh, March 4
The Haryana Assembly today put on record its condemnation of the gruesome incidents of communal violence in Gujarat. "The House places on record its deep sense of sorrow on the sad demise of innocent people who lost their lives in communal violence on the Sabarmati Express near Godhra, Gujarat, and at other places in the country", stated Mr Om Prakash Chautala, Chief Minister, while reading out the obituary resolutions on the inaugural day of the Budget session of the Assembly here.
State export policy soon
Chandigarh, March 4
After the industrial, information technology and education policies, the Haryana Government will now soon announce an export policy to boost exports from the State.
Police remand of voucher scam accused extended
Ambala, March 4
The Judicial Magistrate, (First Class), Mr Najar Singh, has extended the police remand of Joginder Pal, an accused in the refund voucher scam in Ambala Excise and Taxation Department, till March 7 here today.
Dispute over dera land: 4 held
Sirsa, March 4
The dispute over the land of Dera Baba Bhuman Shah near village Sanghar Sadha took a new turn with the arrest of four persons, including the Chairman of the Dera Management Committee, followed by the arrest of yet another disciple who was their defence advocate under different sections of the IPC.
Kaithal on way to normalcy
March 4, 2002
CM: govt to ensure security for all
March 3, 2002
State govt to revise pensions
March 2, 2002
Draft bill on hiking war jagirs okayed
March 1, 2002
HVPN suffers another blow
February 28, 2002
'Privatisation' of healthcare blamed for plague
February 27, 2002
Cong blames it on bogus votes
February 26, 2002
Huda unveils big plans
February 25, 2002
CM against exit poll
February 24, 2002
Vital clues in fraud case
February 23, 2002
Treasury defrauded of over Rs 2 crore
February 22, 2002