Arundhati Roy released
New Delhi, March 7
Describing her day-long stay in Tihar Jail as incredible and a 100 times better than what she had expected, noted author Arundhati Roy was today greeted with flowers and fruits from her supporters.
In video (28k, 56k)

Editorial: Arundhati effect
Booker Prize winner Arundhati Roy receives flowers from supporters of the Narmada Bachao Andholan after her release from Tihar Jail in New Delhi on Thursday. — PTI photo
Pak ready to lift ban on Indian flights
Islamabad, March 7
The SAARC Information Ministers Conference got off to a controversial start here with Pakistan President Pervez Musharraf raking up Indo-Pak bilateral issues but Indian Information and Broadcasting Minister Sushma Swaraj refused to fall for the bait.
In Arts Tribune today
THE TRIBUNE MAGAZINES
On Mondays

On Sundays
On Saturdays

IN PASSING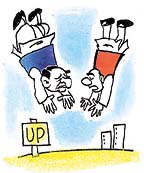 How long will we have to remain in a state of suspended animation?

by Sandeep Joshi
Bandh hits life in valley
Six militants shot dead
Srinagar, March 7
Life was affected here today in response to the strike call of the Kashmir Chamber of Commerce and Industry to protest against the massacres in Gujarat.
Punjab plans fresh review plea
Amritsar, March 7
The state government would seek a CBI inquiry into the alleged excesses by the 'Kairon family' (relatives of Mr Parkash Singh Badal, a former Chief Minister) during the five-year term of the Badal government.
'Election-oriented' Budget for HP
Entry tax hiked, DA instalment released
Shimla, March 7
An election-oriented Budget of Rs 6,115 crore with an anticipated deficit of Rs 45.17 crore during 2002-2003 was today presented in the Himachal Pradesh Assembly by the Chief Minister, Mr P.K. Dhumal.
Budget: BJP too restive
New Delhi, March 7
Finance Minister Yashwant Sinha's budgetary proposals to increase the price of LPG refill and reduce the income tax rebate from 20 to 10 per cent came in for sharp criticism from his BJP party.


Kewal Singh, son surrender
Talwandi Sabo, March 7
Baljinder Singh, a son of Giani Kewal Singh, former Jathedar of Takht Damdama Sahib and main accused in the dowry death case registered against him along with his father and another kin Joginder Kaur, surrendered in the court of Subdivisional Judicial Magistrate, Harsh Mehta here today.
Governor recommends Central rule in UP
March 7, 2002

Kanchi seer's formula on temple accepted
March 6, 2002

VHP adamant on plan
March 5, 2002

Gujarat toll mounts to 450
March 4, 2002

49 more burnt alive, toll 400
March 3, 2002

Army stages flag march, riot toll 200
March 2, 2002

Sinha hits salaried class the hardest
March 1, 2002

Sabarmati Express set ablaze, 57 dead
February 28, 2002

Second class passengers to pay more
February 27, 2002

President for status quo on Ayodhya
February 26, 2002

Congress wrests power in Punjab
February 25, 2002