Pak amnesty for Islamic radicals
Islamabad, March 8
In a significant move, Pakistan has announced general amnesty for the arrested members of the five banned religious and political groups if they give an undertaking not to continue with their association with the militant groups.
Bush asks Pakistan to stop cross-border terrorism
Washington, March 8
US President George W. Bush has emphatically asked Pakistan President Pervez Musharraf to stop cross-border terrorism against India and create conditions for "meaningful dialogue between both the countries", a senior US administrative official has said.
THE TRIBUNE MAGAZINES
On Mondays

On Sundays
On Saturdays

IN PASSING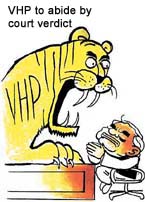 Thanks for having a positive approach !
by Sandeep Joshi
5 ultras shot dead near Vaishno Devi
Jammu, March 8
The security forces foiled a major plan of militants to sneak into the sensitive Katra mountain belt by killing five rebels today. State government functionaries said the militants had taken shelter in an abandoned mountain cave, over 1 km away from the ancient shrine of Mata Vaishno Devi in the Katra forest belt.
4 MLAs seek 'adequate security'
Apprehend threat to life from Chautala, sons
Chandigarh, March 8
Four Haryana MLAs have urged the State Governor, Babu Parmanand, to provide them adequate security as they apprehended "physical elimination" at the hands of Chief Minister Om Prakash Chautala, and his two sons, Ajay and Abhey.
Finance for Singla in due course: CM
Makha (Mansa), March 8
The Punjab Chief Minister, Capt Amarinder Singh, today said Mr Surinder Singh, MLA from Bathinda, would be made Finance Minister in due course of time.
TRIBUNE FOLLOW-UP
HP takes over Wildflower Hall
Shimla, March 8
In a mid-day swoop, the Himachal Pradesh Government today took over possession of the Rs 100 crore Hotel Wildflower Hall at Mashobra, near here, from the Oberoi group. In a smooth operation, the hotel was taken over and a cheque for Rs 9 crore towards the equity participation of the Oberois was handed over to them.
VHP to abide by court verdict
March 8, 2002

Governor recommends Central rule in UP
March 7, 2002

Kanchi seer's formula on temple accepted
March 6, 2002

VHP adamant on plan
March 5, 2002

Gujarat toll mounts to 450
March 4, 2002

49 more burnt alive, toll 400
March 3, 2002

Army stages flag march, riot toll 200
March 2, 2002

Sinha hits salaried class the hardest
March 1, 2002

Sabarmati Express set ablaze, 57 dead
February 28, 2002

Second class passengers to pay more
February 27, 2002