Sunday, March 10, 2002

Feedback
Punjab poll: The plot thickens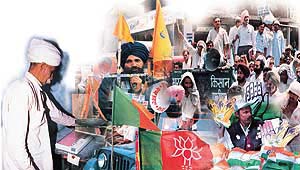 THIS refers to "Punjab poll: the plot thickens", by PPS Gill (February 10). Voters these days are conscious and aware. Gone are the days when mere promises could mislead voters. Even after 55 years of Independence, there is unrest amongst the youth seeking jobs. This is true particularly of rural youth who can no longer depend on agriculture in Punjab.
Unemployment is the biggest problem to be tackled. Youth of the day is impatient and are not ready to take things lying down any more. The new generation voters will go against the establishment in the ensuing election.
Politicians cannot now escape the responsibility of ensuring primary education for every child, health care for all, pollution-free environment and a good industrial set-up. The bureaucracy need to be made accountable and efficient.
Bureaucracy and police administration needs streamlining and freedom from political interference. People do not want exemptions from payment of taxes or for electricity, but they want constant and regular electric supply and a system that works so that there is freedom from red-tapism, harassment, humiliation and corruption.
JASWANT SINGH SIDHU, Ludhiana