"I had decided to take a long Sabbatical after my child was born but the depth of the role lured me back to television," says Pallavi who now plans to do one quality serial at a time and make it worth the while for herself and the viewers. If more stars emulate her example, television would certainly become an eminently watchable medium.
Pop goes the show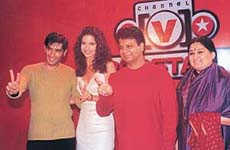 Popstars: Singing to fame
It's turning out to be quite a glam-reality show. Aired on all five star channels simultaneously, Popstars on Channel [V] on Thursdays at 8 p.m. is going where very few shows have gone before — right inside girl's colleges and turning them into five-minute celebrities.
The show is travelling to six cities — Delhi, Chandigarh, Mumbai, Goa, Bangalore and Kolkata to shortlist 24 talented girl singers. These girls will be later brought to Mumbai for a more extensive audition to shortlist 10. From them will be selected the final five.
This five-member instant girl group will have the once-in-a-lifetime opportunity to work with some of the top music directors, songwriters, choreographers, designers and stylists to emerge as India's leading trend-setting Hindi Pop girl band. They will get the chance to record in a professional studio, star in a music video and perform live in front of hundreds of fans.
For the enthusiastic young girls the stakes are high. In fact, weeks before the audition many have been rehearsing their vocal chords. Those who win look surprised, amazed, shocked and delighted as they grope for words. Most girls confess they have been keenly waiting for the event for days, which is why some of the rejected ones cannot hold back their disappointment and tears.
So, if you are a girl and into crooning, get your act together. Who knows you could be the next big thing to happen to Indipop.
Celebrating womanhood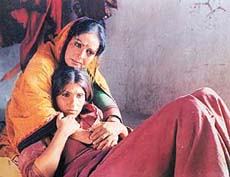 Dimple & Rakhee in Rudaali: Tribute to talent
Star Gold is paying a tribute to women in its own inimitable way. At 7 p.m. on all Fridays in March the channel has lined up national award winning films of five of Bollywood's most talented actresses.
These specials begin with Shabana Azmi's award winning, Godmother. The next lady on show is Surekha Sikri and her gut-wrenching performance in Mammo she is well supported by Farida Jalal.
Another memorable role comes from Rekha, the talented actress of Umrao Jaan. From the giggling village belle in Saawan Bhadon to one of country's reigning actresses, Rekha has come a long way.
Smita Patil, whose life was cut short at 31, is no more amongst us, but her films have left lasting impressions in the minds of her admirers. The channel presents Smita's Chakra, which won her the National Award in 1980.
The last in the series is Dimple Kapadia's hardhitting performance in Rudaali for which she won the best actress in 1992. At 15, as Raj Kapoor's Bobby she became a cult figure and also dictated fashion trends during the time.
Each of these actresses have made large contributions to Hindi cinema, and a tribute to them is definitely in order. Though one wonders why others gifted actresses like Jaya Bachchan and Deepti Naval have been left out of the tribute.
Century of a comedy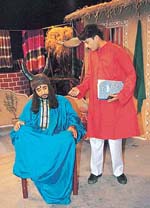 A scene from Jugnu Kainda Hai
Over the last two years it has been on air, it has garnered some of the highest TRPs among all other shows on Zee Alpha Punjabi. Yet, even as Jugnu Kainda Hai celebrates its 100 weeks, its popularity shows no signs of abating.
Though nothing much to speak about in terms of creativity, production values and acting, the serial curiously remains high on the popularity list even as viewers look forward to it keenly week after week.
Directed by Anil Neelam, Jugnu Kainda Hai revolves around a guy named Jugnu whose mission in life is to make people laugh. And he does so even if it means making a clown of himself.
Producer Anuradha Prasad who has been associated with Let's Talk, Rozana, Khabrein Bollywood Ki and more has not been known to have a flair for comedy. But seeing the popularity of Jugnu she is all set to make more serials in this genre. After all, laugh and the world laughs with you. And when the world laughs you get the moolah!
Magnificent flying machines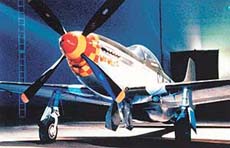 Extreme Air: Thrills of high flying
They are not ordinary pilots. They perform death-defying twists and turns, soaring at unbelievable speeds just metres above the ground or diving out of airplanes more than 3,000 metres below much to the amazement of stunned spectators. They are extreme pilots and air junkies who relish in the thrill of flying.
Discovery Channel takes viewers on a whirlwind tour of four of the most exhilarating aerial competitions in the world with the premiere four-part series Extreme Air, Saturdays 9 p.m. The programme encores on Sundays at 1 p.m.
From the Air Racing World Championship in Nevada, USA, to the first-ever Speed Gliding World Championship in Greece and from the World Cup of Skydiving in Arizona, USA, to the World Aerobatic Championship in Muret, France, this series features indepth coverage of the world's most exciting aviation competitions.
A thrill-a-minute series that will keep all aviation buffs riveted and strapped to their seat. The one thing you can be sure you won't get is jet lag on this perilous ride.
Beverley pills
Cocaine is passe. Heroin is no longer cool. The prescription painkiller Vicodin leaves no tell tales signs of addiction and is the latest drug of choice for the image conscious celebrity set. The studios are losing big bucks as an increasing number of high-profile addicts, such as Friends star Matthew Perry, break down on set unable to continue filming.
Hollywood is increasingly resorting to interventionist techniques in an attempt to control their stars addiction and keep them sober.
In Beverly Pills March 29, 8 p.m. BBC World's reporters speak to Hollywood stars about their battle with the drug, including Steven Bauer, star of Traffic and ex-husband of Melanie Griffths. Bauer breaks down while describing the vicious cycle of addiction and detox that he and other stars experience.
The drug is very easy to get hold of — through a friendly doctor or hop over the Mexican border where you can buy as many as you want legally. The channel investigates stories of film studio runners popping down to Tijuana to stock on supplies for the stars.
Some productions now hire 'sobriety buddies' to keep the vicodin addicts on track. And when things gets really desperate there are always celebrity interventionists. These therapists ambush the stars in the presence of family, friends and other actors urging the celebrity to go into detox before it is too late.
A fascinating insight into the world of stars and drugs, which has so far been talk of in hush-hush tones.
— Mukesh Khosla